← Back to the Blog
Written By | Tom Comet    Photos By  |  Dale Amy
This past August our Team had the fantastic opportunity to be the drone service provider for a very unique ad that was shot for Forty Creek Whiskey in Niagara Falls Ontario.  Forty Creek wisely chose to tie their brand to Canada's most iconic landmark which also happens to be the most powerful waterfall in the world.   It definitely made sense that the water played a starring role in this story but, as you will soon learn, shooting at Niagara Falls can be as challenging as it is rewarding.
DroneBoy have "flown the Falls" dozens of times over the past 10 years but most of those jobs had us flying high above the area capturing "picture postcard" beauty shots of the iconic landmark.  On those jobs our biggest concern was helicopter tour air traffic, staying away from the tourists and not overflying the Maid of the Mist or the US border.  This time around things were a little more intense than that…
Henry Behel was the Director and he is known for his fresh take on high octane commercial work.  Henry is also pilot and he has a lot of experience working with drones so we had a lot in common and got along well immediately.
Henry had a very clear vision and detailed storyboards that described what he wanted to shoot.  These "boards" were a valuable tool as they enabled us to visualize where we needed to put the drone, our movement in 3D space and where and how to point the camera.  This led to our choice of landing zones (LZs), flight paths and the security and logistics plan. Most of the drone shots that we captured were highly specific VFX plates with lots and LOTS of epic water shot from very specific angles and often close-up and extremely personal.  This is what Henry needed in order to tell his story and this was what we had to deliver!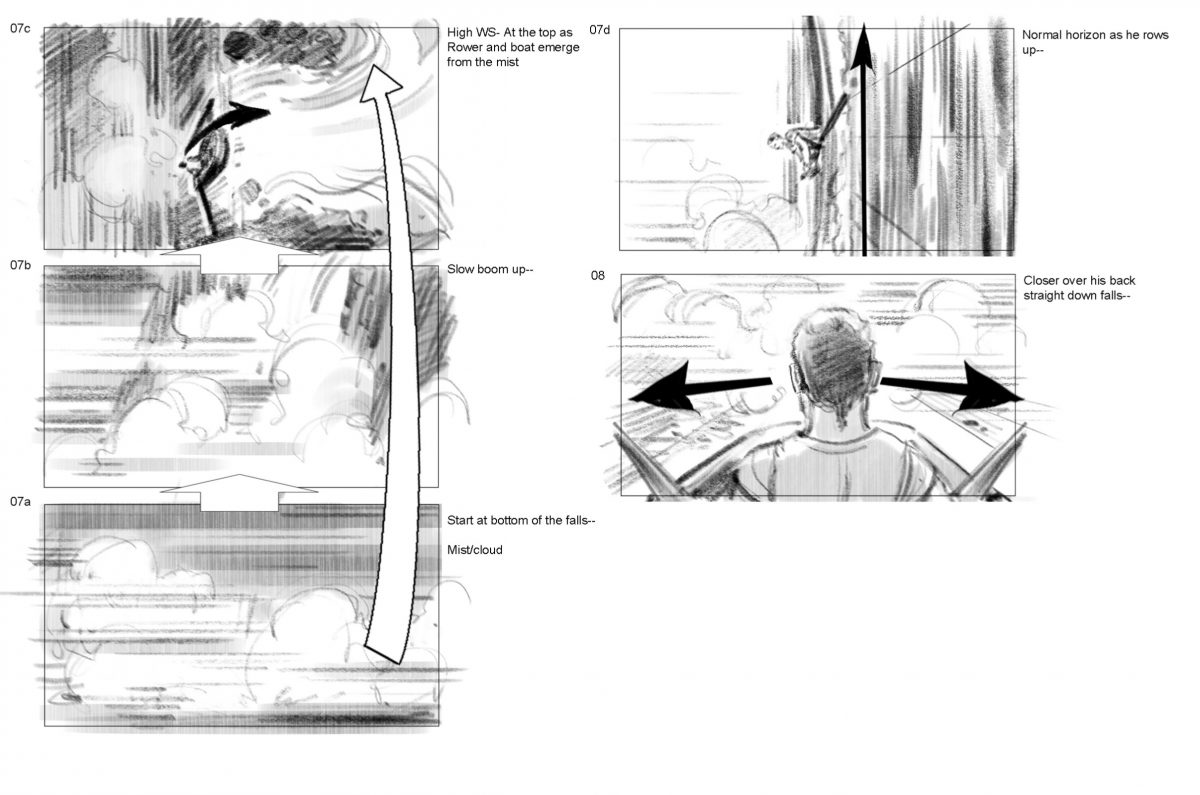 The plan was that the VFX Team would combine our unique high resolution Niagara Falls VFX plate shots with additional footage of the actor that was shot at various other locations where it was possible for the him to "row an antique wooden boat" in a far safer and more controlled environment.  For one of these additional shots the actor and boat were rigged vertically and doused with water for hours for the amazing "rowing up the Falls" sequence.  Here is some fun BTS video showing how that went down.
Because most of our drone shots were destined to be VFX plates we had to fly the highest quality cameras and lenses possible in an extremely hostile environment. The Director of Photography, Keil Milligan, chose the ARRI Alexa Mini with Vantage Hawk V-Lite lenses for the job.  Due to the proximity of the Falls and the weather forecast for the day we opted to rig a Filmotechnic Zero Mini Rain Deflector in front of the lens so that if (when) we got wet the water droplets would spin off the lens and we could continue shooting.  For additional water protection we thoroughly bagged the camera and lens.
The choice of drone for this mission was easy as there's really only one that was up to the task.  For this unique and challenging mission we flew our unbelievably robust and reliable ultra-heavy lift Freefly ALTA X.  The ALTA X gave me the confidence that I needed so that I was free to concentrate on putting the drone in the right place to get the shots and not worry about gear failures.  The awesome ALTA X extended our flight times for long missions out over the Falls without having to come back to base every few minutes for fiddly battery changes.
Onboard our trusty ALTA X we leveraged the optional RTK GPS with a dedicated ground station for centimeter-accurate positioning both horizontally and vertically as well as the ability to return to a precise 3D waypoint.  This system enabled us to continue a shot right where we left off after a battery change or during re positioning.  With the addition of the RTK GPS and a solid 3D satellite lock the ALTA X was like a tripod in the air.  Even when we were well below the lip of the falls with half the horizon obscured the ALTA X held position like a rock which was very comforting, particularly given the environment that we were operating in.
For some of the shots that day we had the opportunity to rig our ALTA X in 'SkyView' mode or top mounted so the camera could look up at the rushing wall of water that is Niagara Falls and not see booms and propellers.  This amazing feature is something Freefly Systems pioneered and it definitely gave us a whole new perspective during this project.
The Forty Creek job had us flying from first light until early afternoon.  I have never had so many flights over the Falls in one day, or flown so close to such a huge wall of water for so long.   It was grueling work and nearly overwhelming at times.  Water has energy and you can't help but be affected as the pilot in command of a machine supporting such a valuable payload so close to so much water for such a long period of time.
Additional aspects were the unpredictable air currents, very high moisture content including full blown rain at times and the relative proximity to so many tourists.  All these factors kept us on our toes every second of every flight.  Thankfully our team and equipment all performed flawlessly.  Henry gave us amazing direction and the production team provided the support needed to get the job done.  I also have to thank the Niagara Parks Commission, Transport Canada and the Niagara Regional Police for the permits, permissions and access to this very unique and awesome airspace.
As you can see, the finished product is unique, memorable and highly effective.  Our role was one of many that all came together to make this project work so well.  We are very proud to have been a part of it.
Here is a longer list of the credits for Forty Creek "Relentless":
Production Company: Suneeva @madeinsuneeva
Director: Henry Behel @henry.behel
Executive Producer: Geoff Cornish
Producer: @kyleahollett
Talent: Adam D'Agostino
DP: @kielm
Drone: @droneboycinema
Drone PIC: @tomcomet_
Drone Cam OP: @mattjoniec
Drone Safety: Stefan Marchand
Drone Safety: Mark Nielsen
Agency: Leo Burnett Toronto @leoburnetttoronto
Creative Director: Matt Williamson
Copywriter: Alex Scott
Art Director: Alicia Outschoorn
Producer: Kali Kyriazis
Edit: Michelle Czukar | Rooster Post
Sound: Jack Goodman @jackgoodmansound
Color: Eric Whipp | Alter Ego
VFX: Mathematic
VO: Kiff VandenHeuvel @kiffvh
Editorial Company: Rooster Post Production
Editor: Michelle Czukar @skirtymcnopants
Assistant Editor: Matt Blakley
Executive Producer: Sam McLaren
VFX & Online Company: Mathematic @mathematic.tv
Lead Compositor + VFX Supervisor: Philippe Bienvenue
VFX Executive Producer: Martin Ulrich
Colour Facility: alter ego @alteregopost
Colourist: Eric Whipp @eric_whipp
FLYING DRONES AT NIAGARA FALLS – FURTHER INQUIRY
I have blogged about working with drones at Niagara Falls before with its multitude of challenges before.  Here is a bullet point synopsis of all the things that can bite you on drone operations there.
Permissions & Paperwork
As noted above, Niagara Falls is VERY challenging airspace to fly a drone in on a whole lot of levels and it requires a very experienced Team, the very best gear and all the appropriate paperwork.  Do not underestimate this challenge!
The Falls is located in an area of restricted airspace officially known as CYR-518 and this airspace requires special permission from Transport Canada in order to operate a drone.  This restricted airspace permission can take from weeks to months to get obtain.  Luckily, DroneBoy have gone through this process many times and have this aspect streamlined.  We are currently seeing approvals for our projects in less than 10 business days and sometimes much quicker than that.
The Niagara Parks Commission control access to most of the region and a permit from them is required for all film projects and to access the best landing zones (LZs).  Again, DroneBoy have the relationships in place to make your project happen and we can help facilitate this process.
Security
Due to the sheer number of people in the area the Niagara Regional Police are required order to get the permit for all operations around the Falls.  We have worked with these folks many times before and we have a very comfortable relationship that enables us to get your job done safely and effectively.
Proximity to the USA
Niagara falls is located right on the Canada/US border and the US has a very strict NO DRONE policy.  This means that all Niagara Falls drone projects need to launch and land on Canadian soil and that all flights must to remain in Canadian airspace at all times.  Lucky for us the Canadian Falls are far more picturesque than the US Falls and they are easily filmed from Canadian airspace.
Environmental Concerns
The moisture in the air and extremely unpredictable air currents are a HUGE challenge.  These are both difficult to judge from a distance and they will take you down if you are not extremely diligent.  It is very easy for your drone to get wet or blown around and, as pilot in command, you must stay focused 100% of the time.
If the temperature is below zero Celsius then prop icing is a very real possibility as well.  I have witnessed this briefly and it is scary!  During one memorable winter job out over the Falls I noticed that the drone just "felt weird". I immediately returned to base to discover ice building up on the leading edge of the props.  If I had not taking immediate evasive action I am sure that the drone would have lost lift and crashed into the icy waters below within 30 seconds of me noticing the issue.  Be very wary of this!
There Are People Everywhere!
The Falls is a VERY busy area with hundreds of thousands of tourists visiting from around the globe each year.  There are a multitude of tourist attractions from zip lines to helicopter and boat tours and people are everywhere!  This means that a great security, logistics and communications plan is essential.  It also means LOTS of pre planning, paperwork and additional time requirements for all the approvals.  Fun!
Flying the Falls is A LOT of work, effort and a high risk endeavor but it is definitely worth it.  Please don't attempt any of this without the appropriate experience, licenses, team, equipment, permits and permissions!
If you want amazing drone footage from Niagara Falls, DroneBoy will be happy to help.  To find out more about flying drones for projects over Niagara Falls please Contact us today!
← Back to the Blog