← Back to the Blog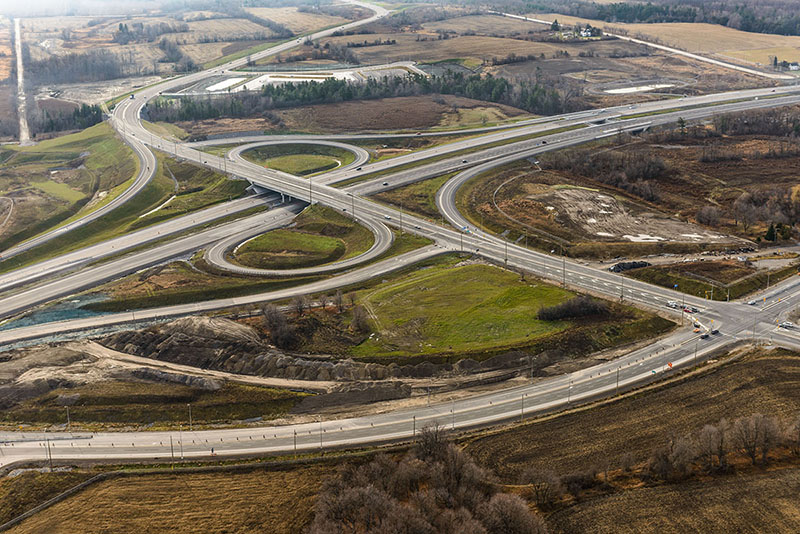 Written by | Tom Comet
We love it when new technology comes online right when we have a perfect fit and need for it. This was the situation when the primary contractor for the 407 Highway Extension Project, which was nearing completion east of Toronto, called us. Their Project Manager wanted us to use drones to document the entire, brand new 33km long highway before it opened to the public. Oh, and it was opening in THREE WEEKS time!
This was the moment we went to work. How could we go about making one seamless video cover a 33 km long site with the following challenges:
• The project was way too long for one flight and drone flight yet the video needed to be seamless.
• Beyond visual line of site (BVLOS) missions are not currently allowed in Canada.
• There were several smaller highways that crossed the new 407 that were active and therefore could not be crossed because we can't fly over the public or active roads.
• We had very little time to make any of this work.
As luck would have it a short time before this project came along our team had been experimenting with waypoint technology, where we could program semi-autonomous flights into our drones and have them "autofly" missions. Of course our pilots still maintained control over the drone in the case of an emergency, and our Observers kept up the 100% visual line of site (VLOS), but this waypoint technology gave us the ability to fly a seamless 33 km long mission in sections. We could stop along the way to change batteries or to land, cross under an active over pass and launch again on the other side, regaining our precise track based on the GPS waypoints. This waypoint technology enabled us to fly the mission in sections that all linked up perfectly end to end. Magic!
Now, how to go about creating one seamless video with all this starting and stopping? All these start/stops while recording video would create a jumpy final product even with post production stabilization and creative editing. Also, the client demanded a seamless final product… It was then that we had the brainstorm to create a moving timelapse video or hyperlapse as it is now known. A Hyperlapse video is inherently jumpy but the effect is expected as it is part of the genre and creates in interesting, creative look and feel.
Our team went out and performed a proof of concept for the client where we created a short test flight and video; it worked great and they loved it. Next we programmed our drones to take hi-res still images every 2 seconds during the actual 33km long waypoint mission, and we stitched all these shots together into a seamless, edited hyperlapse video showing the entire project start to finish.
This project took a lot of time, effort and head-scratching, but the client loved the final product because not only did they get the finished hyperlapse video, they also got tens of thousands of individual hi-res photographs documenting every inch of their massive, multi-million dollar highway project. They were so excited with the results that they had us fly the site three times and create three different versions of the hyperlapse video to document different time periods leading up to the completion date.
We were extremely happy with this project and proud of our team for taking on a challenge, and making lemonade from lemons. We feel that we came up with a truly innovative use for drones in the world of construction, we learned a lot, and we had some fun along the way.
DRONEBOY CREW
• Pilot & Drone Camera Operators – Bernie Martin | Rob Boyce
• Ops Manager – Tom Comet
• Administration – Taryn Krueger
EQUIPMENT USED
• Drone – DJI Inspire 1PRO
• Camera / Gimbal – Zenmuse X3
← Back to the Blog