← Back to the Blog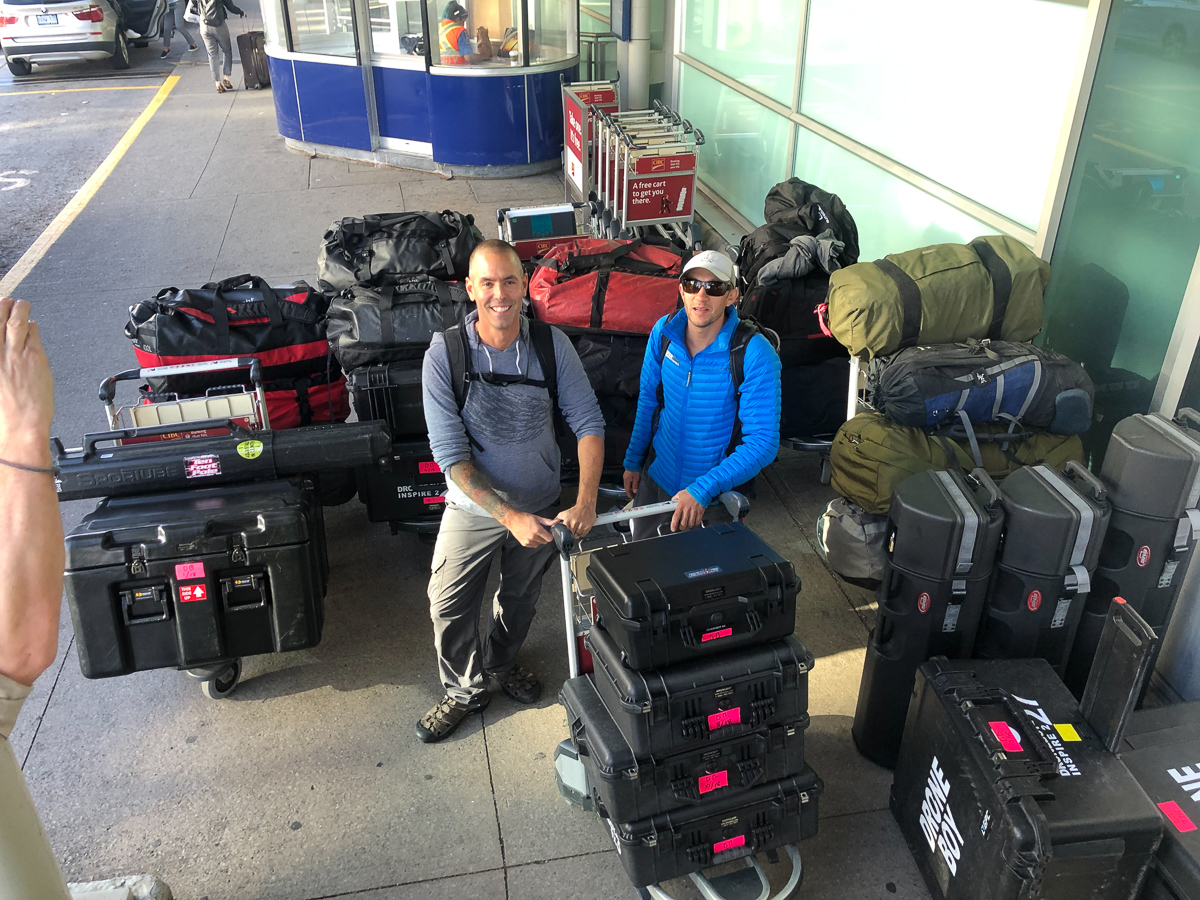 Written By  |  Tom Comet
During our recent expedition flying and filming with drones in Nepal our Team was challenged on a lot of different levels.  I discussed the physics of flying at extremely high altitude in a previous BLOG post.  In this post I will delve into the logistical challenges involved when travelling internationally with drone and high end camera equipment and how we overcame these challenges on our recent film expedition to Nepal.
As you can imagine, it was no small feat to get the mountain of gear required to make a feature documentary film from our base of operations in Canada to the other side of the world in Kathmandu, Nepal.  As anyone who has flown with any more than a carryon bag can attest, flying with checked baggage is a hassle, time consuming and can be quite expensive.  When that checked baggage consists of over 40 odd and oversized flight cases weighing up to 100lbs full of specialized, expensive, perceived dangerous (LIPO batteries) and difficult to replace gear the costs and complication rises exponentially!
Flying With Drone Batteries Is A Big Problem!
Air travel with high capacity Lithium Polymer (LIPO) drone batteries has become VERY difficult. Over the past few years this little boondoggle has become every internationally travelling drone team's worst nightmare. These specialized, machine specific, high capacity LIPO batteries are considered dangerous goods (DG) by the air carriers and rightfully so.  If any of our LIPO batteries were to short circuit, malfunction, or the individual cells become damaged this can lead to a"thermal runaway" potentially causing them to burst into flames emitting toxic smoke, heat and fire.  Although this outcome is highly unlikely and I would say virtually impossible with the correct procedures and high quality products, it remains a liability that no one really wants on their commercial passenger carrying airplane.  Therefore, the airlines have very strict limits on the type, weight, capacity and number of LIPO batteries that can be brought on board a passenger aircraft. All batteries need to be stored properly in carryon luggage and never in checked baggage.  Also, batteries can rarely be over 100watt hour capacity which means anything larger than an Inspire 2 TB50 battery probably won't make it on the plane.
Unfortunately, the rules are different with different carriers and the specialized knowledge levels of Security and Gate Attendants is all over the map in this regard.  Some balk at letting any batteries on the plane.  Certainly, the bigger, heavy lift drone batteries need to travel by alternate means than commercial passenger carrying flights.
Why do they want us to carry LIPO batteries in the passenger cabin you ask? This way they can be monitored and in the extremely unlikely event of a problem, the airlines have procedures and protocols in place to deal with it.  This includes specialized training, containment devices and protective equipment for their flight attendants to deal with the issue and keep everyone safe.  To my knowledge there has never been a drone battery incident on a commercial aircraft.  Cell phone, tablet and laptop batteries, yes but no drone batteries have caused problems.  Let's keep it that way!
Dangerous goods (DG) cargo is possible with companies like FedEX but careful research needs to be done beforehand as many countries do not accept these specialized DG shipments.  DG battery shipments also need to be packed and prepared by a certified DG shipping company so they are in the appropriate packaging and all the proper paperwork.  Additional time needs to be built into the travel schedule for unaccompanied DG battery shipments.  Think >1 week for international shipments.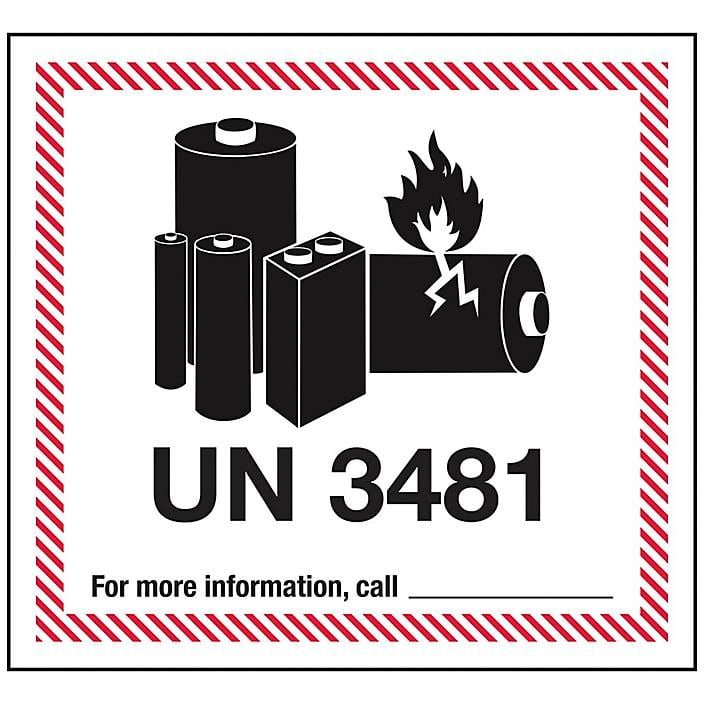 We have found over the years that it is often a lot easier to purchase our large LIPO batteries new direct from the manufacturer (Tattu, Herewin etc.) for a project like ours in Nepal.  We then have the manufacturer "drop ship" them directly to the FedEX depot in the city where we arrive on our trip. Reputable battery manufacturers specialize in DG shipping and do it every day and they also have a vested interest in getting their products out to us in the field.  Unfortunately, in the case of our film job in Nepal FedEX did not accept DG shipments so for this trip we were forced to ship our large, high capacity batteries DG to neighboring India and then have the them trucked in overland to Kathmandu at great expense.  $$$ – Yikes!
We did successfully (and legally) fly with all our <100WH Inspire2 TB50 as well as all our many various camera batteries of which we had many. It helped that we were a big group (5 travelling) and we could spread the load of batteries out between all of us. We were also very thorough preparing our batteries for transport.  We first lowered the voltage of all our LIPOs to a "storage charge", then carefully insulated and taped ALL power connectors.  Next we labeled all the batteries with both accurate watthour and storage voltages listed on very official looking labels with signoff from our shop manager.  All batteries were transported in rolling Pelican Cases with custom padded dividers to protect and securely hold the batteries from any movement.  To round out our packaging we included a printout of the FAA Battery Information Sheet at the top of each case for "educational purposes", should the need arise.  The moral of this part of the story is travelling with drone batteries is safe and legal BUT it takes a great deal of time and effort to pull it off in this age of air travel paranoia.  Do your due diligence, play by the rules and you can get it done safely and legally.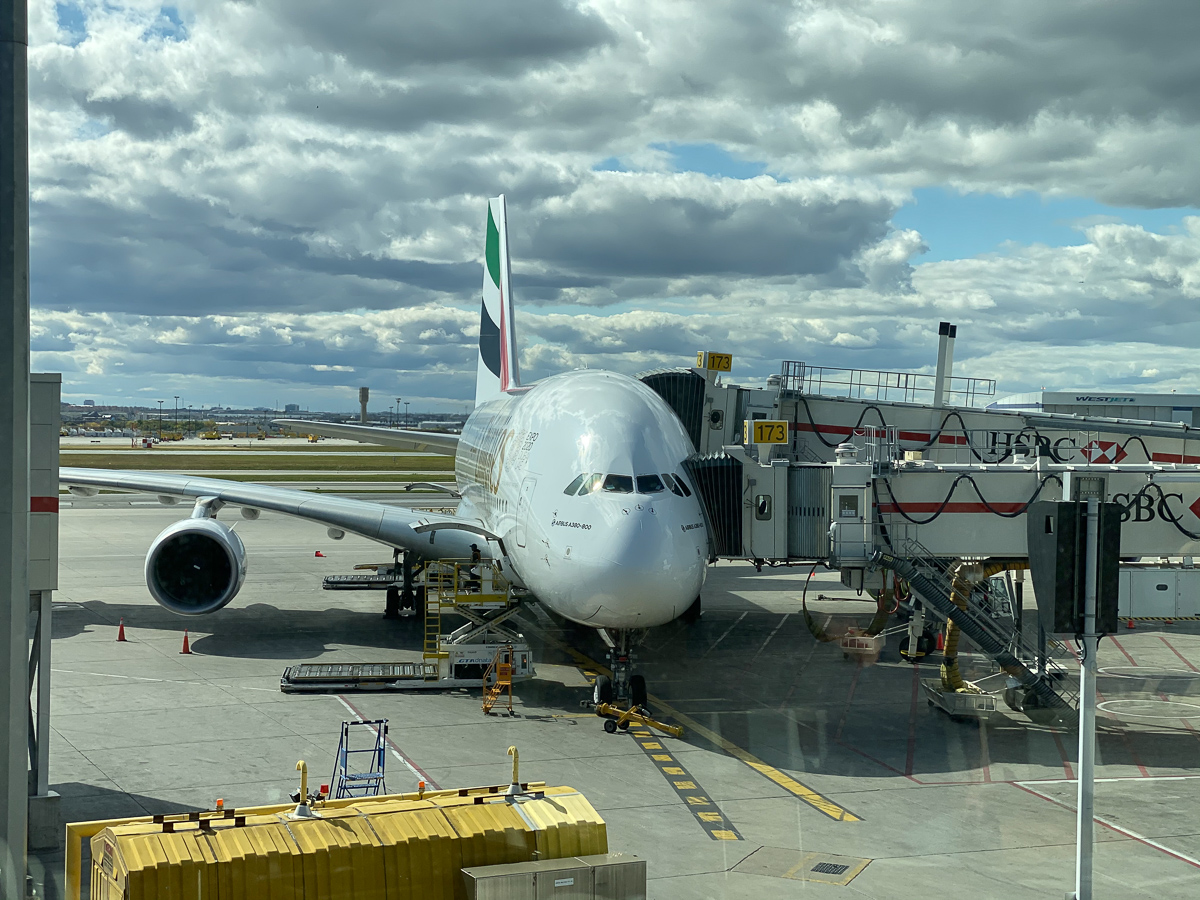 Getting Gear on the Plane
Once we had our batteries issues sorted there was the small matter of getting all the rest of our equipment ON the airplane to fly it all half way around the globe to Kathmandu Nepal.  One thing that we learned the hard way on this trip is that when you are travelling with A LOT of gear be sure to call your airline well in advance to warn them. Just because your production company has a credit card with a high limit is no guarantee that they will allow you to check anything and everything on the plane as excess, oversized baggage. This was something we found out the hard way Day #1 of our adventure.  Our FlyDubai connecting flight onwards from Dubai to Kathmandu would not guarantee to our first flight provided by Westjet in Toronto that they would take all our excess baggage.  This caused the good people at Westjet to not let us on their flight out of Toronto which meant rebooking and a delay of one day just getting out of Toronto.  Bummer!  The moral of that story is call ahead!  FYI – That Sheraton Hotel attached to the Toronto International Airport is very nice and an AV geek's paradise as it provided unrivaled views of the entire airport aprons and runways.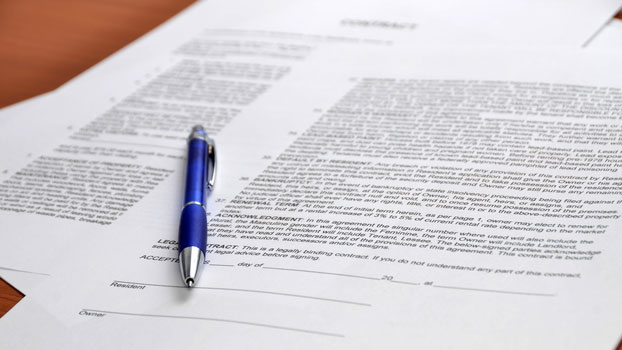 The Paperwork
Another "fun" aspect of international film work is all the paperwork. It is absolutely critical that you and your team have a manifest that lists all your equipment properly itemized with descriptions, values and serial numbers broken down per Case.  The formal version of this document is called a carnet and takes a lot of time, money and effort to get in place.  There are companies that can facilitate getting a Carnet in place for you but they charge a lot for the service and, again, it takes time.
Unfortunately, our project did not "firm up" until ten days before we were scheduled to depart Canada so this left us very little time to even assemble all the gear, much less get the official carnet in place.  Instead we traveled with a very detailed equipment manifest as well as receipts showing where the gear was purchased and its value.  Our "Fixer", the local logistics and expedition outfitter in Nepal had a copy of this all important gear list as well and this helped facilitate our entry and exit from the country.   The issue when travelling with a lot of high value goods is the local government wants to make sure you leave with what you came in with and are not importing stuff that you intend to sell without the appropriate customs fees applied. Obviously, we would take everything home but I suppose some folks could take advantage of a situation like this to illegally import goods into a country.
This very same detailed manifest got us back into Canada without having to pay customs on equipment we already owned.  Upon our arrival back into Canada I did learn one more little trick from the nice guy at Canadian Customs.  He told me that Customs are happy to have a look at your gear on the way OUT of the country and stamp your manifest paperwork to provide one more level of proof that it all originated from Canada.  This requires a quick trip to Customs at the Arrival portion of the airport but I feel could be a very worthwhile trip.  Of course, a Carnet is always better than any manifest / gear inventory but, let's be realistic, not every film project has the time and resources to get a carnet in place.
Why not just ship all the gear to Nepal you ask?  We certainly thought of this but after researching the option we concluded that it was going to cost a lot more money, take longer (there is always a tight schedule going in to a shoot), be potentially less reliable. It would also cause us to have to pay up to 50% customs fees on everything due to Nepal's somewhat backwards importation rules and regulations. Remember, we had a lot of very high value equipment and these additional customs fees would have added up to a LOT of money! Money that we would rather spend on things that showed up ON SCREEN and not just bureaucratic inefficiencies and cash grabs. We did ship about half our equipment home due to the relaxed time requirements and even then, we had to fight, explain, show paperwork and pay some customs fees to get property we already owned back in our possession. Yup, it is easier to fly with your film equipment as excess checked (or carry-on) baggage IF your airline will take it and it fits in the hold below.
Miraculously our Team and ALL our equipment arrived at the Kathmandu International airport unscathed and they let us into the country.  Next would come the even more challenging part – getting all that gear up the mountain and making a movie.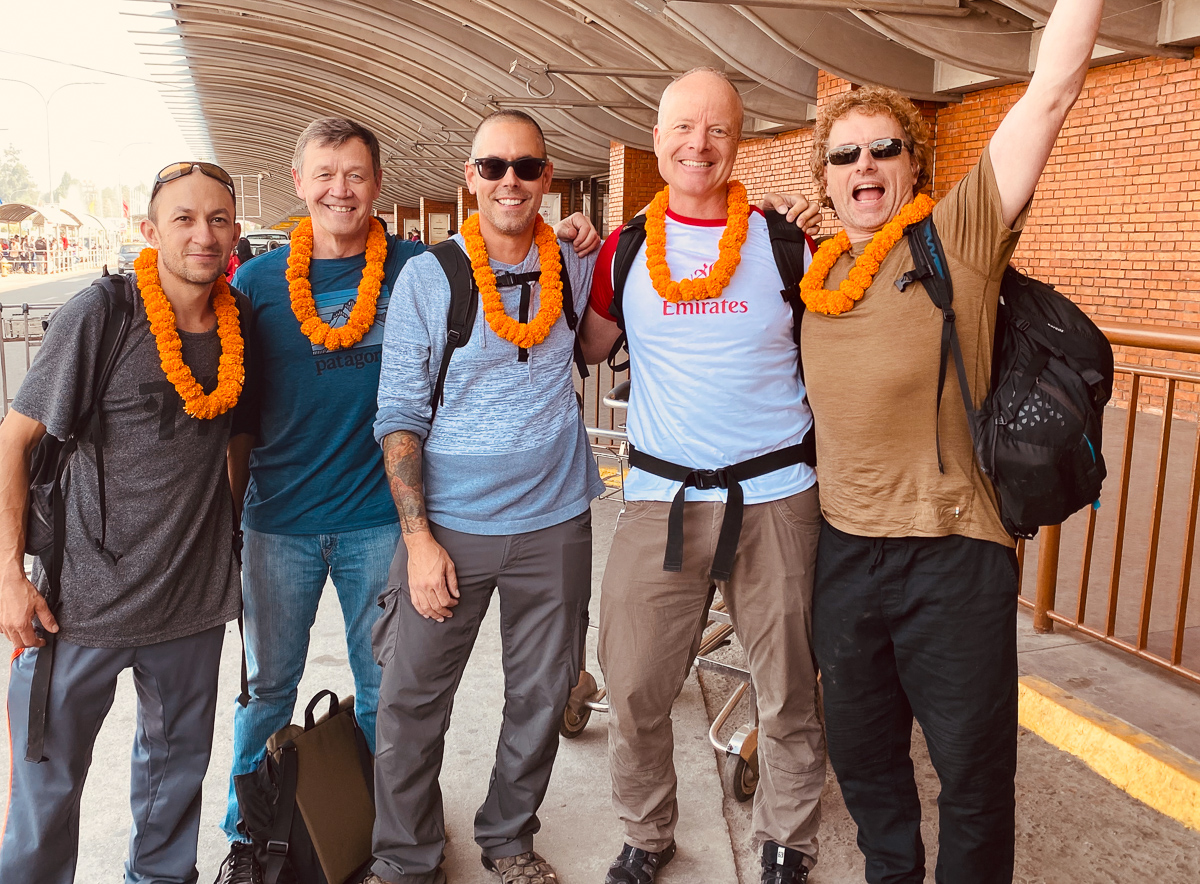 ← Back to the Blog