← Back to the Blog
Written By  |  Tom Comet
DroneBoy recently had the fantastic opportunity to be part of a large-scale documentary project where we provided all the aerial cinematography, Ops Team, equipment and drone services for a very high altitude, big-screen film project shooting in the Himalayas.  I can't go into details about the project specifically but I would like to talk about some of the other interesting aspects and challanges that we overcame during this incredible trip. 
This is not the kind of opportunity that we (or anyone else for that matter) get asked to do very often and it was an awesome opportunity and adventure to say the very least.  Due to the challenging high altitude environment, this mission forced us to revisit the basic principals of aerodynamics and physics as well as develop new systems and protocols in order to raise our chances for success.   My Team and I had to do a lot of research and gear prep on the drone, camera systems and mountaineering aspects of the expedition.  Not to mention shipping 7 drones and 40 cases worth of equipment to Nepal and get all that up extremely high into the mountains.  We had to  train hard both physically and mentally as well as learn to operate effectively in an extremely unforgiving mountain environment.  This first blog article of a planned series discusses the challenges involved in flying drones at high altitude.  I hope you enjoy it and perhaps learn something along the way.
How it Started:
When I first got the call asking if I thought it would be possible fly both our Medium Lift and Heavy Lift Cameraship Drones at altitudes up to 5000m (16404.2') up in the Himalayas I have to admit that I had some hesitations for sure.  Of course, I kept those to myself and I replied my tried and true  "sure… uh,…  probably… let me get back to you on that…" which is a response that is in line with one of my favorite Richard Branson quotes, a man I highly admire who I had the fantastic opportunity of meeting and working with a few years back…
"If someone offers you an amazing opportunity and you are not sure you can do it, say yes – then learn how to do it later"
-Sir Richard Branson 
The Challenges:
How would our delicate and expensive flying machines function at extremely high altitude in a very cold, windy environment where there are so many less molecules making up the air?  Was it even possible to fly drones, and HEAVY LIFT DRONES at that, to film safely and effectively up really *high. Was this something we even wanted to attempt?  Would it be worth the risk?  (spoiler alert – yes, yes and YES!)
*SAFETY NOTE – we were flying at very high altitude while always maintaining the standard 400' safe flight ceiling by launching from extremely high up in the mountains.  Never fly drones higher than 400' above your launch location without appropriate approvals and additional safety measures in place.  This is Drone Safety 101 folks!
Before signing on to this exciting and potentially very challenging film expedition to the Himalayas we did as much research as we could.  From revisiting basic aeronautics principals to endlessly picking the brain of our in-house aeronautical engineer and self-professed "nerd in residence," Patrick.  I also reached out to anybody and everybody I could find who had previous experience flying drones at high altitude.  It turns out that there were very few people I could find who had experience doing this kind of thing, particularly when it came to Heavy Lift Drones and large cinema packages.  I did find one kind gentleman who had experience flying an Inspire 2 up to 19,800' who was keen to share his experiences.  My chats with him were very encouraging and proved that our mission was at least possible, in theory… at least the smaller with Inspire 2's…
As many of you will remember from high school physics, the higher the altitude, the lower the atmospheric pressure and the less oxygen and nitrogen molecules there are bumping around in the air.  Less molecules affects a lot of things from humans trying to breath (our flight team) to the aerodynamic effectiveness of the drone's airfoils (propellers) spinning in order to generate lift.  This lack of lift negatively affects the drones thrust ratio required for controlled flight.  The higher we went the lower the atmospheric pressure and the worse the problem becomes.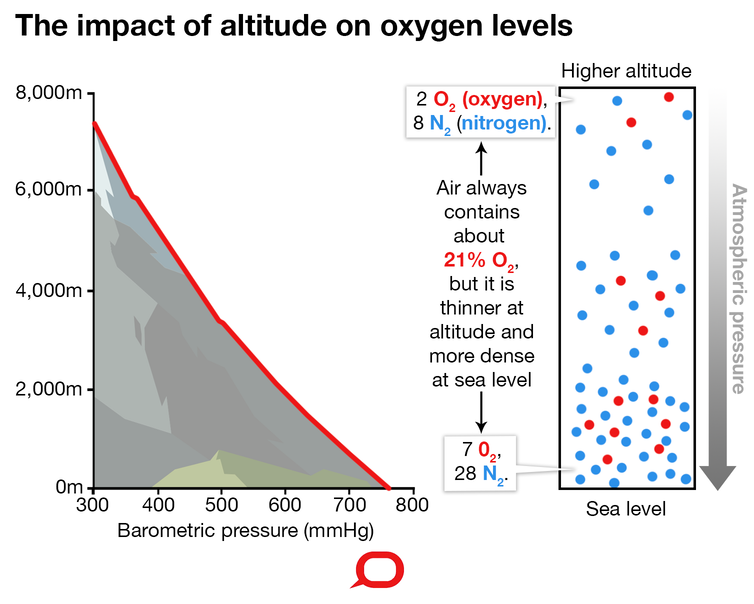 Compounding the lack of molecules in the air problem was the issue of the environmental lapse rate which means that air gets colder as you go higher at an average of 2 degrees Celsius per thousand feet.  We were hoping to fly up to at least 5000m (16,404ft) altitude so it was going to be COLD.  Cold air has a few advantages however such as being more stable and dense but in our case it had a net negative affect by lowering the efficiency of our sensitive LIPO batteries and causing our Team to get very cold at times. 
We have learned from experience that cold weather and drone batteries do not mix well.  The battery challenges came into effect while flying (less electrons available = less thrust), in transport and storage (hard on batteries and they lose their charge more rapidly) and during charging (slower, less efficient charges).  The cold is also hard on the Flight Team's exposed fingers on the controls as well and the equipment in general causing more wear and tear. 
So we have less molecules to "push against" which causes our motors to want to spin faster however our batteries are not functioning at peak capacity due to the cold.  This compound set of problems severely limit to how much the motors can work and "correct" while flying a high altitude mission.  All drones have excess thrust capacity built into their thrust to weight performance but as we went higher we got closer and closer to the ultimate limit where 1) the drone just won't fly at all or, 2) flight control systems will not function properly or 3) a gust of wind will come up and the drone won't have the excess thrust capacity to right itself and it will capsize and…. You get the idea.  Not the kind of problems we want with a $150,000.00 cinema film package dangling beneath our Heavy Lift Drone on a high profile film project at 5000m altitude!
The Solutions:
To overcome our high-altitude challenges, we employed the following strategies:
High Altitude Drone Modifications
When we were above 2500M flying our Inspire 2s we always used the *DJI High Altitude Propellers (HA Props).  These props are manufactured with more surface area and a steeper blade pitch so they "push more air" and work much better at altitude.  We noticed a huge difference when we switched to these props from the stock units.  Unfortunately, at the time of our mission to Nepal there were no HA Props available for our brand new Freefly ALTA X .
*SAFETY NOTE – Don't use HA Props below 2500M as they can cause the motors to be overworked, heat up and burn out.  That would be bad!
De Rate Your Drone's Carrying Capacity
For the Ultra Heavy Lift Drone we were required to fly a 20lb cinema camera package which would have been very easy to do back at home however this was uncharted territory at high altitude in the Himalayas.  For this task our tool of choice was the brand new Freefly ALTA X with its 35lb payload capacity at sea level.  Of course there were no performance charts available that covered flights up to 5000M and the manufacturer was very clear that all our proposed high-altitude flights in Nepal should be considered "extremely experimental."  Overall Freely Systems was cautiously encouraging about the mission but they did offer a few disclaimers as no one wants to guarantee a piece of gear on a mission that was as "outside the box" as what we were planning to do in Nepal.  I think Freefly Systems was excited about the prospect of having us act as drone test flight pilots for their newly released ALTA X which they brand as "the world's toughest drone."  During the course of our film expedition we sure tested that branding and I have to say that the byline is very true indeed!
Treat the Gear Right and Be Gentle!
We knew that we would be pushing all our film equipment right up to very near the breaking point in Nepal, and our drones more even more so.  To help offset this we babied our gear and treated it as best we could while on the road (Yak trail actually).  Nepal is a dirty environment and we worked tirelessly keeping things clean.  We were fastidious about preflight checks going over all aspects of the systems meticulously.  At least one day a week we would schedule in a "gear day" where we took every piece of kit out of its protective case, built it up, inspected, tested it and cleaned it. Also, when we were operating at high altitudes (>2500m) we made a point of flying very gently and not pushing the hardware.  If you can imaging driving your car on a road that you think is very icy and how carefully you would be.  This was exactly how we flew our drones at altitude. 
Test, Test & Test…
Every time we were required to operate from a higher altitude (or fly UP to a higher altitude) we performed a series of test flights with a dummy payload weighing slightly more than the expensive camera payload we would be flying shortly thereafter.  This way we could test all flight characteristics of the drone and ensure that everything was working properly before strapping on the cinema camera package and flying the real film mission near the rest of the crew, our talent and potentially the public including all that Nepal has on offer (small children, yaks, monks, B3 helicopters, chickens, trekking tourists etc.) 
All joking aside, this was a critical test that we took very seriously and performed in a secure area which is sometimes difficult to create in Nepal.  Luckily, we travelled with our own Police to act as security and we had a big crew including our Nepalese Sherpas and Porters who spoke the local language and could more easily convince the locals to keep their distance during this critical time.  
My main concern as Pilot during these high altitude flight tests was to determine if the drone was 100% safe to operate.  I would perform a very carefully monitored test flight to gauge how the drone "felt" and acted at our new, higher altitude and how much excess thrust it had.  Once I determined that our drone carrying the test weight could actually fly and all basic flight controls were near normal (hover check <10M off the deck) I would note how much throttle was required in manual mode to maintain a hover.   This manual mode throttle input got progressively higher (worse) as we gained altitude starting at the normal 50% throttle when we tested at 1500m all the way up to 75-80% throttle when we did this same test later in our expedition at 5000m. 
After the hover check and basic flight function checks I would push the throttle to 100% and see what the "climb out" was like as this test allowed me to gauge how much excess thrust was available to the drone to fly, maneuver, take evasive action if needed and compensate for wind and dodge the locally abundant and extremely large Himalayan Griffons (vultures) etc. 
SAFETY NOTE – This test item was more applicable to our Ultra Heavy Lift Freefly ALTA X than the smaller DJI drones we flew.  However similar tests were done on the Inspire 2 but with no test weight and no manual mode as that drone does not have that capability. 
During our entire mission in Nepal our ALTA X was always flown in manual mode in order for the Pilot to maintain a tactile "feeling" for the flight characteristics and drone health in real time.  Any Drone Pilot who has flown for a long time will tell you that he or she can "feel" how the drone is doing right through the "sticks" and this is a very valuable skill to have and to constantly monitor. 
SAFTEY NOTE – On our ALTA X in Nepal the Program Flight Modes (P & A) were avoided as they would have masked how hard the drone was working.  In the Program Modes the automation always makes sure the throttle is at "half stick" for a level flight hover but in this case that half stick hover in P or A Mode may well have been 75-80% capacity, very close to the limit… 
Keep Everything & Everybody as Warm As Possible
In order to combat the cold we dressed appropriately with all the best mountaineering gear money could buy. We wore the best technical fabrics from head to toe and we followed the mountaineer's layering system, always stripping down for the trekking and then bundling up again every time we stopped to rest, work & shoot.  The goal was to never get sweaty AND to never get cold.  When you are cold you don't think straight and that will affect one's happiness, the quality of the work and even safety.  Stay warm!
Our drone batteries were transported in insulated, heated cases and our battery charging was done in as warm an environment as we could find.  This was more difficult to achieve then it sounds as there is no central heating in the Nepalese Tea Houses where we stayed and the higher we climbed, the less heating of any kind.  A lot of our battery charging had to be done outdoors and sometimes right on the trail with one of the two Honda Generators that we travelled with.  Portable electric heaters and blankets were utilized to create warm "nests" to charge and store our batteries.  Some of the same technical fabrics used to keep our team warm was used on our precious batteries as well.  One easy trick we learned was to place the charging batteries near the warm exhaust coming out of our running generator in order to keep the batteries at a suitable temperature while we charged them.  Put that trick in your back pocket for your next cold day on set!
SAFETY NOTE – Be VERY careful using drone batteries in cold environments!  DO NOT underestimate how big of an effect the cold has on batteries and flight performance.
How it All Turned Out:
This is the first BLOG instalment chronicling some of the more interesting aspects of our mission flying drones and shooting at high altitudes in the Himalayas and it was a huge success.  During my Team's seven-week adventure in Nepal we successfully implemented hundreds of high altitude missions with our Mavic 2 Pros (still photos only), our Inspire 2s and our Ultra Heavy Lift Freefly ALTA X flying a Red Dragon Monstro 8K. During that time we had zero failures, incidents or accidents.  We captured hours of spectacular 6K and 8K aerial footage in a part of the world that is more beautiful and photogenic than anywhere else that I have had the good fortune to work and to travel.  On this past trip we just scratched the surface of what this beautiful region has to offer cinematically and my team and I look forward to going back in the spring of 2020 to finish this monumental project.  I am looking forward to the completion of this film as well because only then will I be able to tell you what it was we were shooting in Nepal and you can witness the fruits of our labor on the big screen.  
How High Can We Go?
Just how high of an altitude can we fly our camera drones at remains a very good question.  I am confident that the Inspire 2s can go much higher than we took them on this particular trip.  20,000ft+ for sure!  As for our Ultra Heavy Lift Drones, a bit higher than the 5000M we attained in their present configuration and probably a lot higher with the addition of high altitude props and other possible modifications.   Perhaps we can even get them to operate up over 20'000ft as well.  Inevitably there will be a "service ceiling" at which point these machines will no longer safely fly and  bad things will start to happen.  We need to stay vigilant with our testing, stay below that altitude and, first and foremost, keep everyone and the precious gear safe.  I look forward to our planned return to the Himalayas to continue this learning adventure and letting you know how that turns out at a future date.
I plan to publish a series of follow up BLOG posts where I will delve into the logistical challenges of performing a job like this in the high mountains of Nepal.  Until then, be a good Boy Scout and always Be Prepared and always, always fly safe!
Follow Up Posts:
–MAKING MOVIES IN THE HIMALAYAS PART #2 – THE LOGISTICS OF AIR TRAVEL WITH DRONES & FILM EQUIPMENT
← Back to the Blog