← Back to the Blog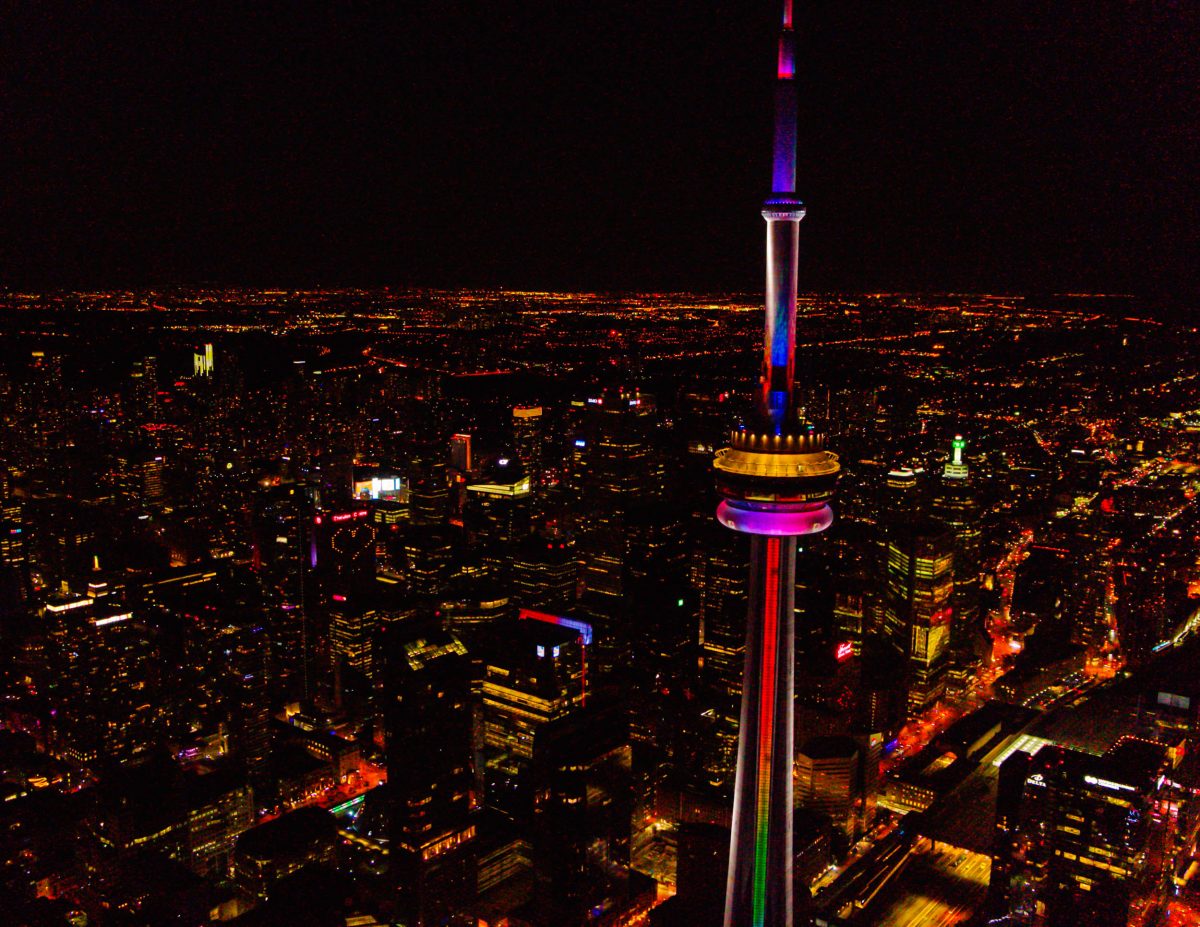 Written By  |  Tom Comet
The DroneBoy Team is proud to have been chosen as the aerial video provider for the recent live stream of the spectacular Canada Day lightshow at the CN Tower.  As you probably know all too well, Canadians have been asked to stay home and not gather in large crowds during the Covid-19 pandemic.  This has meant that large-scale public events have been off limits and the recent Canada Day celebrations certainly fell into that category.  What to do?
The City of Toronto came up with a novel way to celebrate Canada Day AND keep people safe.  Their plan was to create a custom lightshow on the CN Tower choreographed to music and then live stream the entire show to YouTube for everyone to watch at home.  How best to capture such a show?  Drones of course!
For this event we used TWO of our very capable Inspire 2s with the X7 Camera system due to their great low light capabilities The feed from our two drones was live switched with a number of other camera feeds from around downtown, synced to music and broadcast to the internet.  Brilliant!
Like most things unique and worth doing, this mission was not without its fair share of challenges.  As you are probably aware, the CN Tower is smack dab in the middle of Canada's largest city and it is certainly much higher than the 400' legal flight ceiling for drones as mandated by Transport Canada.  The CN Tower is 1800' high in fact!  You see, the powers that be generally don't want drones operating above 400' because aircraft can fly as low as 500' and there needs to be appropriate separation to keep everyone in the airspace safe.  This is a very good idea but what were we going to do in the case of this show?
Where there is a will there is a way!
If you are into drone rules and regulations (which I am) then you may have heard of the relatively unknown regulation in the Canadian Aviation Regulations (The CARs) that states that drones can operate higher than 400' as long as we stay less than 100' above the tallest obstruction within 200' laterally (CAR 901.25).  What does this mean exactly?  In this case it meant that as long as we kept our two drones closer than 200' horizontally from the CN Tower then we could legally operate up to 100' higher than the tower itself.  The idea being that manned aircraft will NOT be operating in this airspace as it is far too close to the CN Tower.  Problem solved..
Not so fast…!  When we flew the rehearsal the night before July 1stour Director kept asking our Drone Team for wider shots than we could provide from inside the 200' perimeter of the Tower, even with our widest lens.  What to do?
Part of our legal requirement for flying a mission such as this one taking place inside controlled airspace (Class C Control Zone) is to obtain both NAV Canada and Air Traffic Control (ATC –  CYTZ Airport Tower controller) permission for the flight. I have my pilots license and fly an airplane and I find that this helps immeasurably when talking with these nice folks who control the skies above.  Due to the C-19 lockdown the airspace in question was relatively free of manned aircraft so I asked both NAV Canada and ATC if they would clear a larger block of airspace around the CN Tower just for the duration of our live show on Canada Day. They were happy to oblige and for the live show they blocked off a 1.5NM radius perimeter all the way up to 2500' which gave us loads of room to get the shots the Director wanted, keep everyone safe and make everyone happy.  We monitored City Centre Airport (CYTZ) Tower frequency just to be sure and ATC did a great job of keeping all other aircraft away.  It worked out great and Torontonians got to celebrate at home and witness a one of a kind lightshow from a unique perspective.
Drones can be a great way to live stream a lot of things, particularly during this C-19 pandemic.  Do you have a show or event that requires our unique aerial perspective?  Contact us to find out more.
← Back to the Blog