← Back to the Blog

Written By  |  Tom Comet
In my two previous BLOG posts about our recent drone filming adventures in Nepal I discussed Flying Drones at High Altitude and The Logistics of Air Travel With Drones & Camera Gear.  In this final post in the series I will discuss how we travelled from Kathmandu to well over 5500M altitude in the rugged mountains of Nepal with over $500k worth of very high end, difficult to replace cameras and drone equipment.  It was a challenging, fun and, at times a grueling adventure but it was also a unique experience that I feel is worth sharing with you.
ARRIVAL
Right from the moment we landed at Kathmandu Airport it was immediately apparent that we were in a parallel universe with very different rules from back home.  From the computerized customs kiosks with no staff to explain their non-functioning intricacies to all the filthy trekkers with their colorful North Face gear bags scattered everywhere.  Personal space is at a premium in Nepal with all of humanity crammed so close together.  It takes some getting used to for sure.
And then there was our Team of weary travelers arriving from our 20+ hour flight from Toronto via Dubai with over 40 cases of precious cargo spewing off the baggage carousel and materializing from all corners of the airport. After two hours of customs headaches and searching around endlessly for that one last case we emerged out to the street to sweet, fresh air. Miraculously all our baggage was accounted for and our Nepalese Fixer was there to organize our ground transportation to the hotel.  Hooray – round one down!
THE MOST DANGEROUS AIRPORT IN THE WORLD
After a couple of days prepping gear and buying last minute supplies in the famous Thamel neighborhood of Kathmandu we were back to the airport for our quick flight up to Lukla Airport,  "the most dangerous airport in the world".  Lukla is the furthest you can fly into the region of Nepal near Mt. Everest where we would be filming and our Team would be walking from there. For this leg of our journey most of our crew travelled by helicopter while yours truly was left to manage all our baggage in the chartered De Havilland Twin Otter.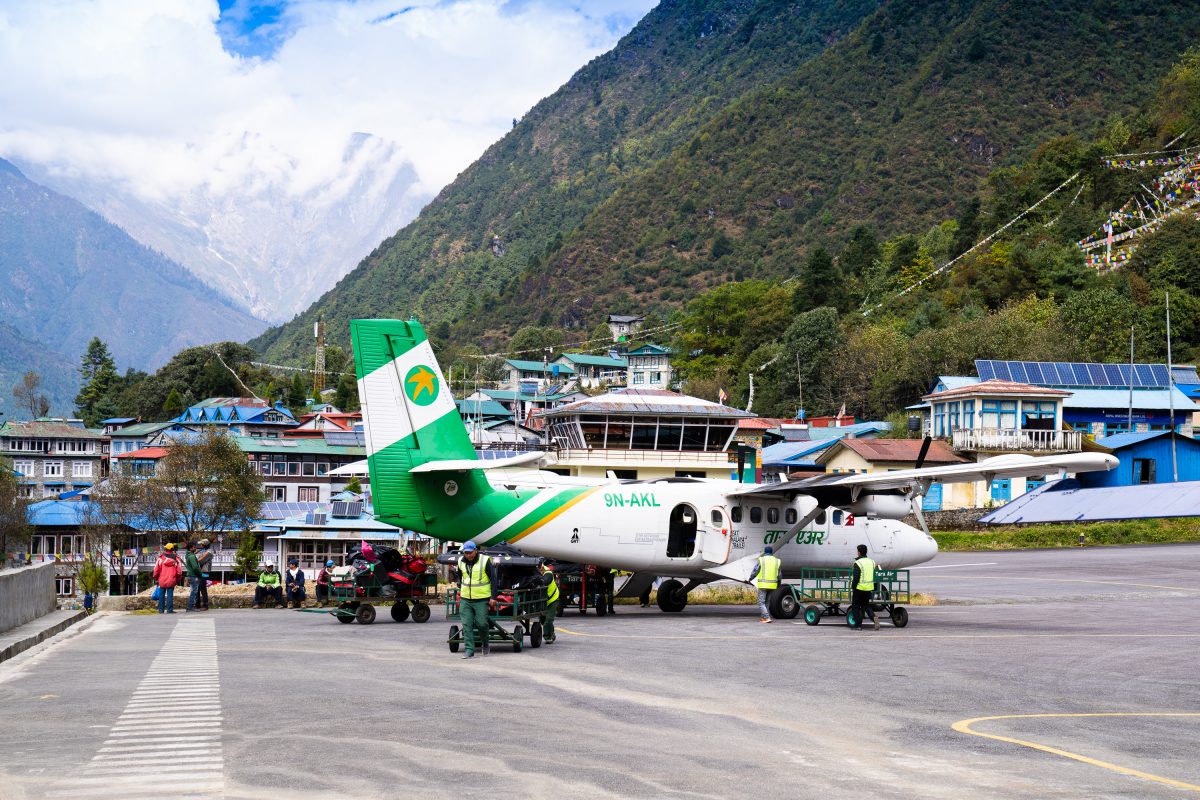 Being an aviator myself, I LOVE the Twin Otter and it's amazing STOL short field abilities and I felt that it was certainly my very best chance for survival while flying into this infamous high mountain airport with such a short runway (527m) and an 11.7% grade.  The Lukla Airport has an average of one big aviation accident every year and it is VERY unusual and challenging for even the most experienced pilots. It is such a difficult place to operate that there are only three aircraft types and just a handful of pilots certified to fly in and out of Lukla Airport.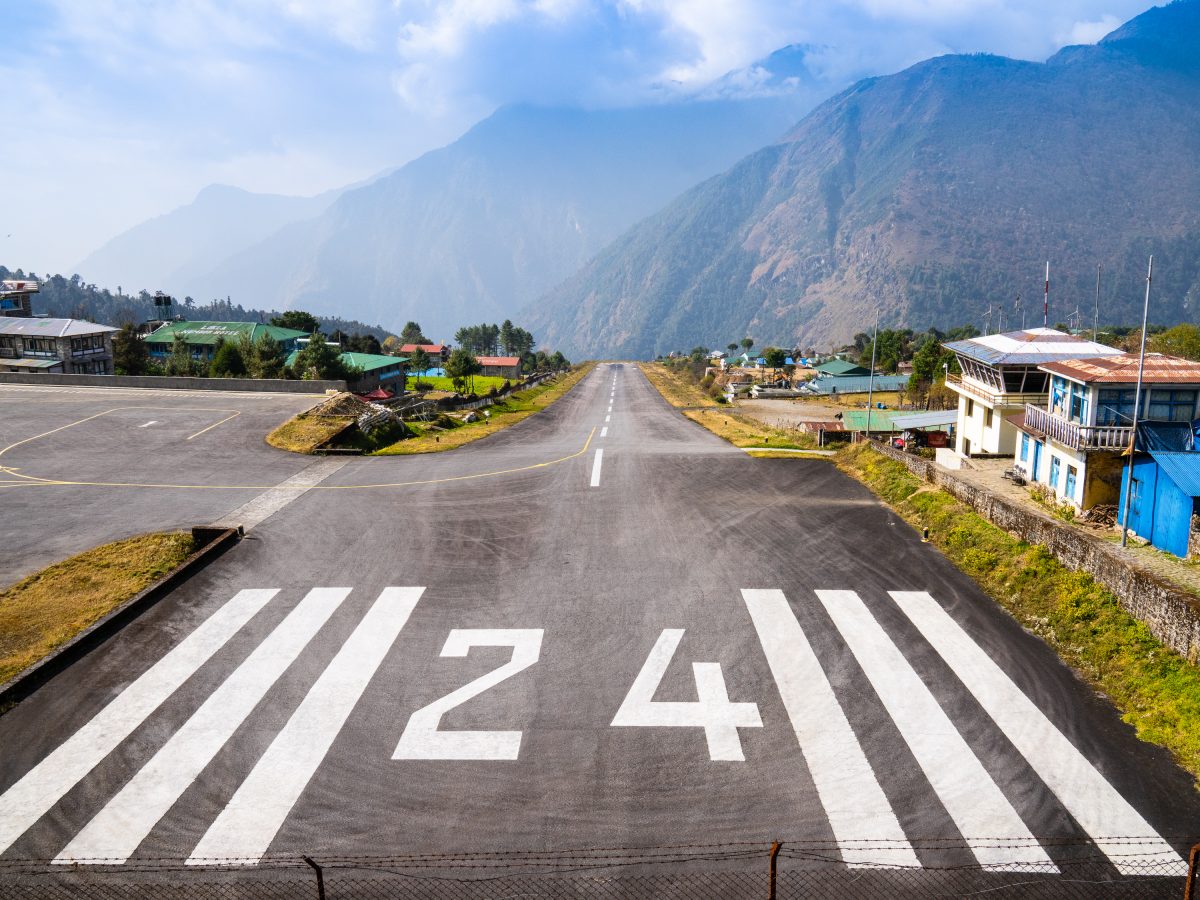 In Lukla we met the rest of our logistics and support team which consisted of our high mountain Sherpas(7), a small army of Porters(40+) and our Sirdar(1).  There is often confusion amongst Westerners about these roles so I will attempt to describe them as best I can.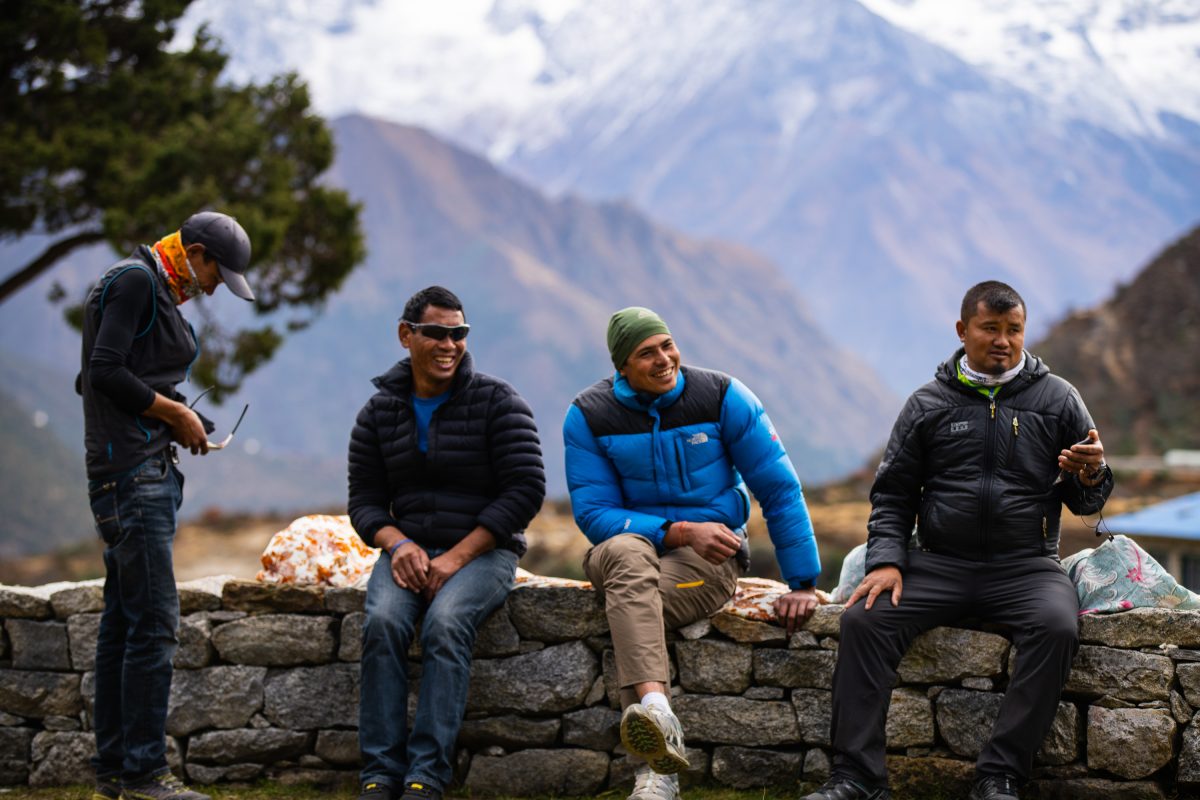 THE SHERPAS
Most Sherpas have a Buddhist background and come from the higher mountainous regions north of Kathmandu.  They are very experienced mountain people and, due to their natural physiology, they function very well at high altitude.  Sherpas are kind, gentle, friendly, smart, well educated, helpful and usually speak near perfect English.  Inevitably, on a trip like this, you end up building very close bonds with members of your Sherpa Team.
The Sherpas were responsible with leading our Team and keep us safe during ALL aspects of our travel in the mountains.  This could be as simple as reminding us to walk on the uphill side of the trail as Yaks pass by so as not to risk be pushed off a cliff to encouraging us to drink our tea without milk and sugar for better hydration and to avoid altitude sickness.  The more commonly known role of the Sherpa is that of mountain guide and experienced high altitude mountaineer charged with keeping the Team moving effectively, staying safe and alive as we make our way higher up into the mountains.
During our expedition, we also tasked our Sherpa Team with general film work (PA, Camera Assistant etc.) as well as Drone Assistant roles (setup, security perimeter and we even taught a few of them to fly) which they loved and were immediately very good at.  The Sherpas carried some of our specialized gear as well but, generally, they did not carry the big, heavy loads.  That is left to the Porters.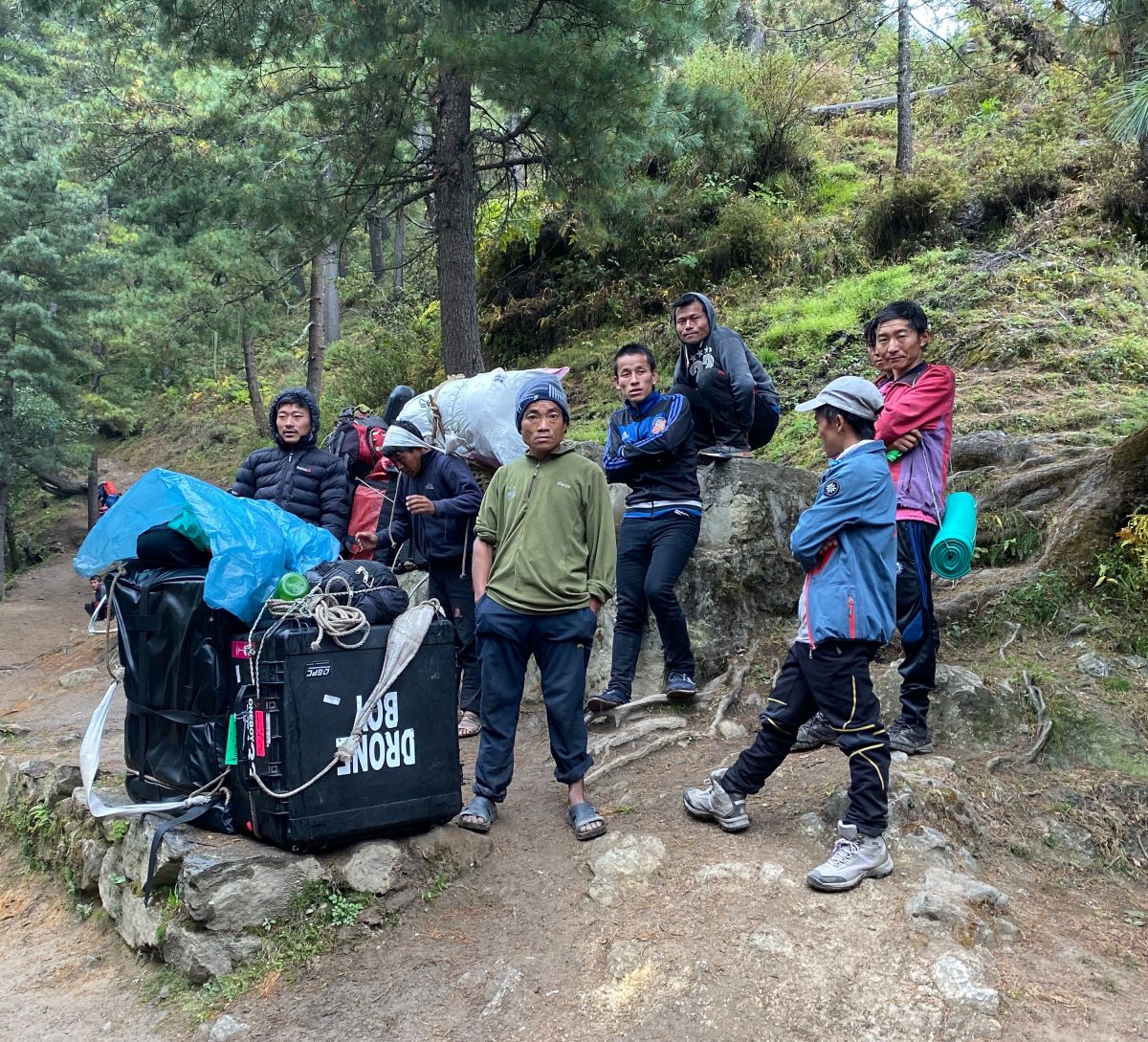 THE PORTERS
The Porters generally come from a lower class than the Sherpas and are very poor.  Some are educated and speak English but many do not.  Carrying heavy loads for foreigners is by far the most lucrative job around and they do this very well.  Porters are often seen carrying huge loads happily uphill all day while blasting Nepalese music from old iPhones in casual, inherited clothing and flip flops or even worn out shoes.  I witnessed a couple of Porters carrying loads in bare feet though these were not members of our team.
Side Note – If you want to take charity items to give to needy people in Nepal TAKE BOOTS & SHOES and give them to Porters!  Porters are male for the most part but I did see a couple women doing this heavy work during our time in Nepal.
During our expedition, it was the Porters who carried all our heavy cases, equipment and personal effects up the Everest Base Camp Trail (EBC) to the Tea Houses where we stayed as well as to our many film and drone launch locations.  Every morning all our gear would get hauled out of wherever it had been stored for the night (cellar, spare room in teahouse, Sherpa's friend's place etc.) and the Porters would divide up the loads under the watchful eye of our Sirdar.  I am sure many of you have seen photos of Porters carrying HUGE and unwieldly loads from their unconventional tumplines (head strap backpack rigs) and, as un fathomable as it seems, this is totally how it is done over there.  I regularly saw Porters carrying loads stacked 10' high and everything from cases of toilet paper to propane cylinders, raw meat, chickens, construction materials and even rocks and gravel for road building.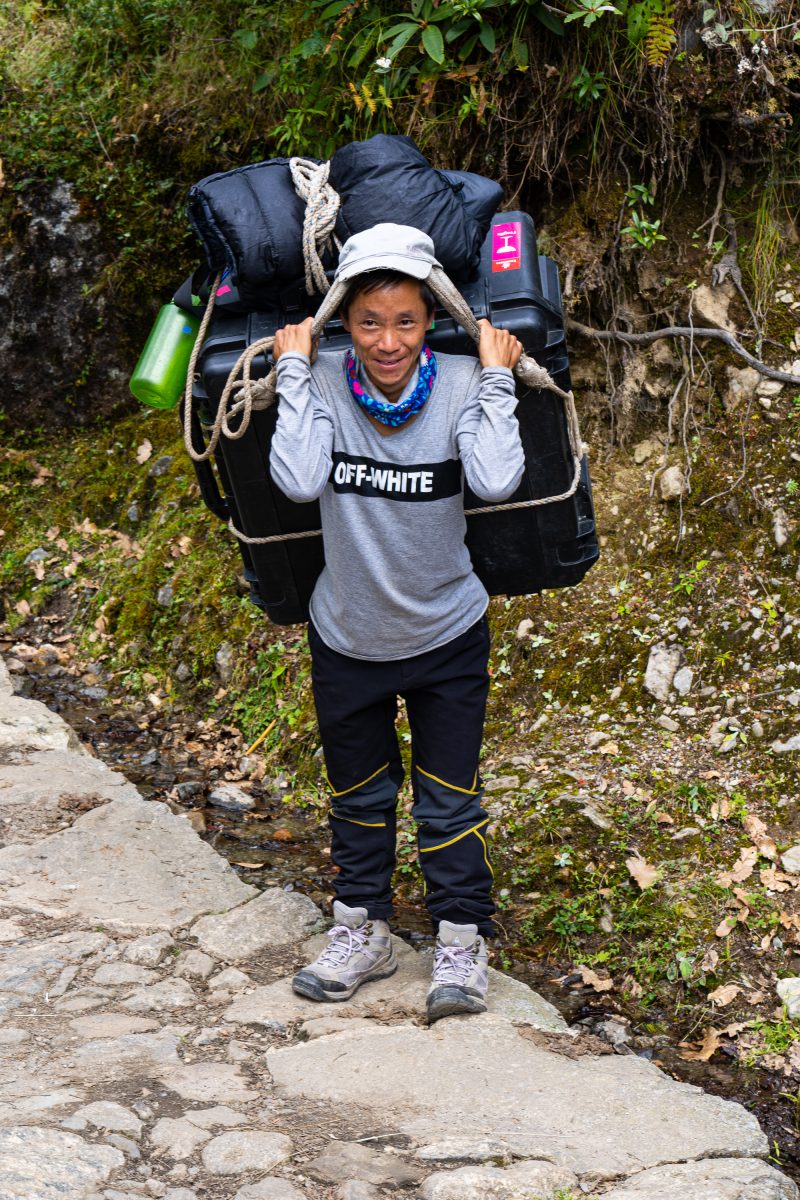 There are new regulations in effect that limit what the Porters can carry to 30kg but I was also told they still often carry much more than that because they are paid by weight.  This means they often wantto carry as much as they possibly can which can have a detrimental effect on their health and longevity.  One thing is for sure, Nepalese Porters are some of the hardest working people I have ever met!
WHAT IS A SIRDAR?
Another very important person on our support team was our Team's Sirdar.   The Sirdar's role is that of head of the Porters and the Sherpas and he (or I guess She) organizes all the logistics out on the trail.  The "Boss Man" of the local labor so to speak…  Our Sirdar was constantly monitoring our equipment transportation and logistics.  He kept an eye on our food supplies as well as doing things like inspecting and cleaning the kitchens in the Tea Houses and managing their local staff to ensure they maintained a high level of sanitation.  He supervised water hygiene including making sure all potable water was boiled as well as run through our expedition grade water filtration system that travelled with us everywhere.  The way I see it, our Sirdar's main role was ensuring that us sensitive Westerners stayed warm, fed, happy and healthy and that our gear was always where it was supposed to be when we needed it.  A HUGE responsibility!
THE FIXER
Another very important aspect to our working and travelling in the mountains of Nepal was our local logistics provider or "Fixer".  The term "Fixer" often conjures up illicit or devious images but this was certainly not the case of our travelling documentary. For our expedition we hired a very well-known outfitter based in Kathmandu.  This was a guy that our Producer/Director had worked with many times over the past 20 years and has a huge reputation in the industry.  This company provided everything from ground and air transportation to shipping and logistics.  They supplied the specialized mountaineering equipment required for our trip. Everything from basecamp tents and kitchen equipment to rope, ice axes, helmets and even custom made gear packs so the Porters could more easily carry our precious and unwieldly loads. They organized our local staff (Porters, Sherpas & Sirdar) as well as booking all accommodation and food along the trail.  They applied for all our access, film and drone permits as required and LOTS of other paperwork I am sure.  Remember, Nepal has a large bureaucracy based around generating revenue from its number one natural resource –  tourism! I am quite certain there were many more aspects to this role that I did not see but I feel that this part of our Team was key to our success accessing Nepal in the intimate way that we did.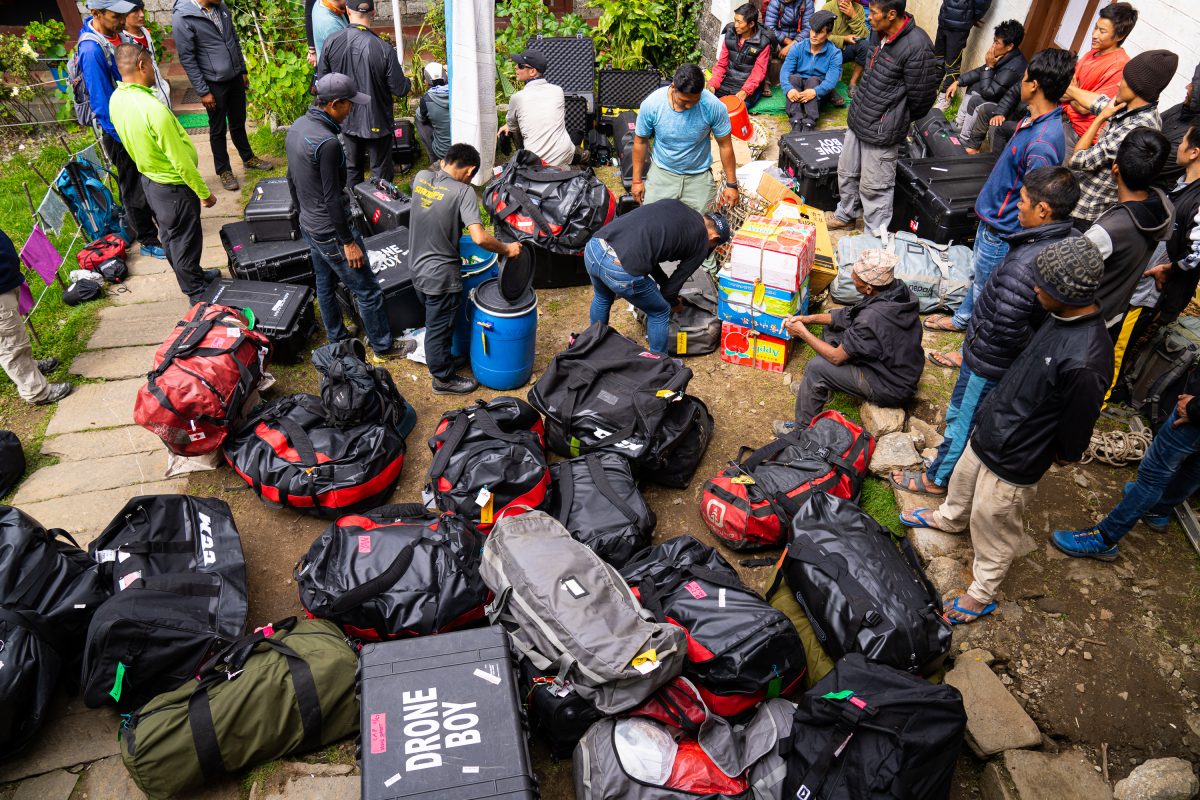 Outside of our small number of Canadian team members it was the sole responsibility of these four groups to keep our team and property safe out on the over 300km of rough trails and high mountain terrain that we covered during our seven weeks of filmmaking in Nepal.  In that time, we had no serious injuries and we didn't lose one case, backpack or critical piece of gear.  I feel that this is a testament to the quality of workmanship and the honesty of our local team and the Nepalese people in general.  It was a privilege to spend time and have such great adventures with these beautiful people.
A TYPICAL DAY ON THE TRAIL
I would usually wake up early tucked in my warm-20C sleeping bag in a freezing cold, dark, damp room in some random tea house along the trail.  I share this room with my Drone Camera Operator and if we are lucky the room has an attached bathroom but usually those facilities are located down the hall.  The the bathrooms are "rustic" and the showers are almost always COLD!  There are always two small beds and barely enough room for our personal gear, much less whatever drone equipment we have determined needs special attention (battery charging, lens cleaning etc. – the rest of the gear is in the storage room).  These bedrooms are never heated, poorly constructed and my theory is that the dampness is due to a combination of the poor construction techniques and all the moisture that has literally come out of the never-ending stream of trekkers who inhabit these places each night during trekking season (Yuck!).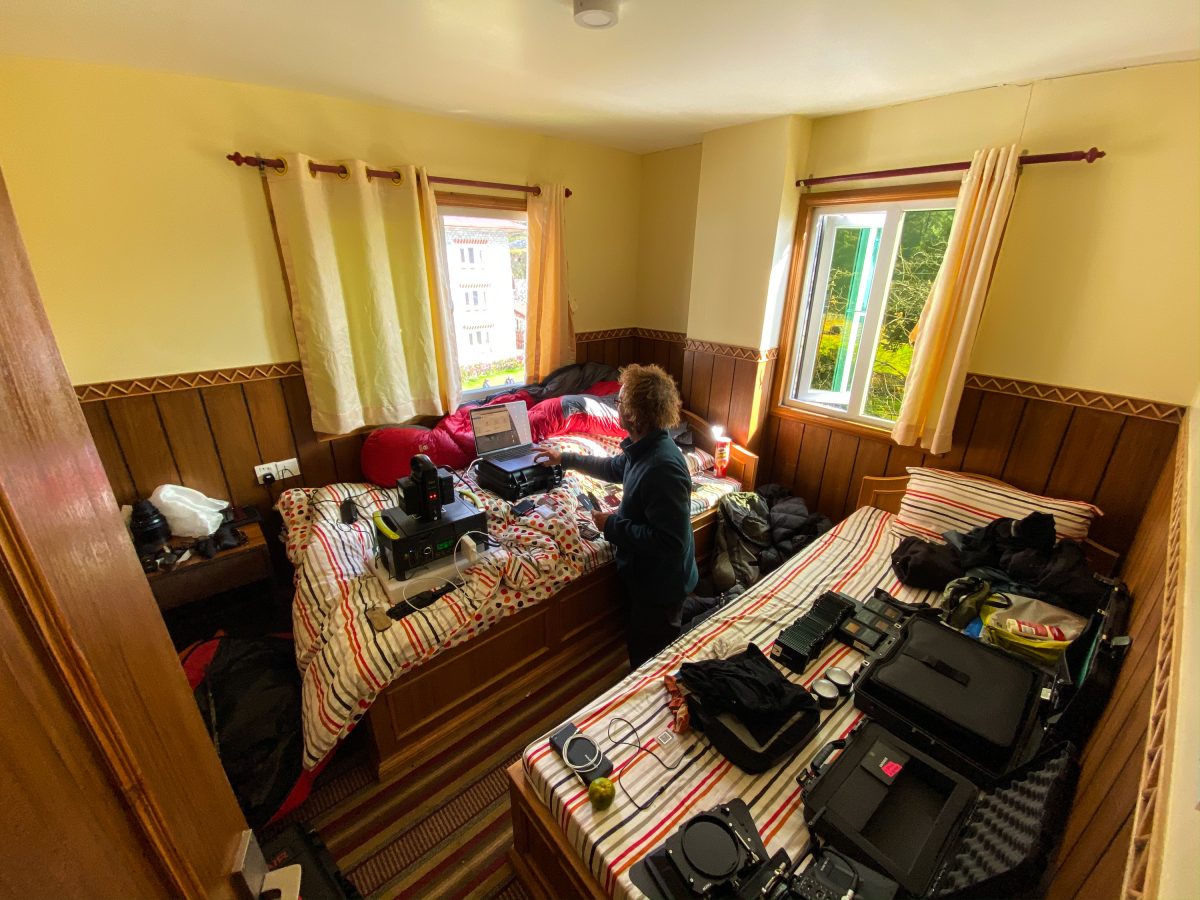 Our Team assembles in the common room at or before our pre-determined meeting time and we all sit down at a big table that is usually reserved just for us. The coffee is OK, usually Bodum style but some places now have fancy-pants espresso machines that give varying results.  Often the Bodum coffee is a better bet.
Inevitably there are other groups and individuals staying at the tea house at the same time as us and they are all on their own trips and programs. We even came across a couple of other film teams during our seven-week journey.  This common room is invariably the only heated area in the tea house which makes it a hub of activity in the mornings and evenings.  During the day, everyone will be out on the trail except for the od sick trekker staying in trying to recover their physical abilities sipping tea and attempting to swallow weird local antibiotics.  The heat in the common room is usually derived from a well-tended wood stove but as we climbed higher on the EBC Trail and got above the tree line wood was substituted for Yak Dung to burn for precious heat.  The toxic smoke and infernal stench derived from a toasty Yak Dung fire will remain imprinted on my mind and lungs forever I fear.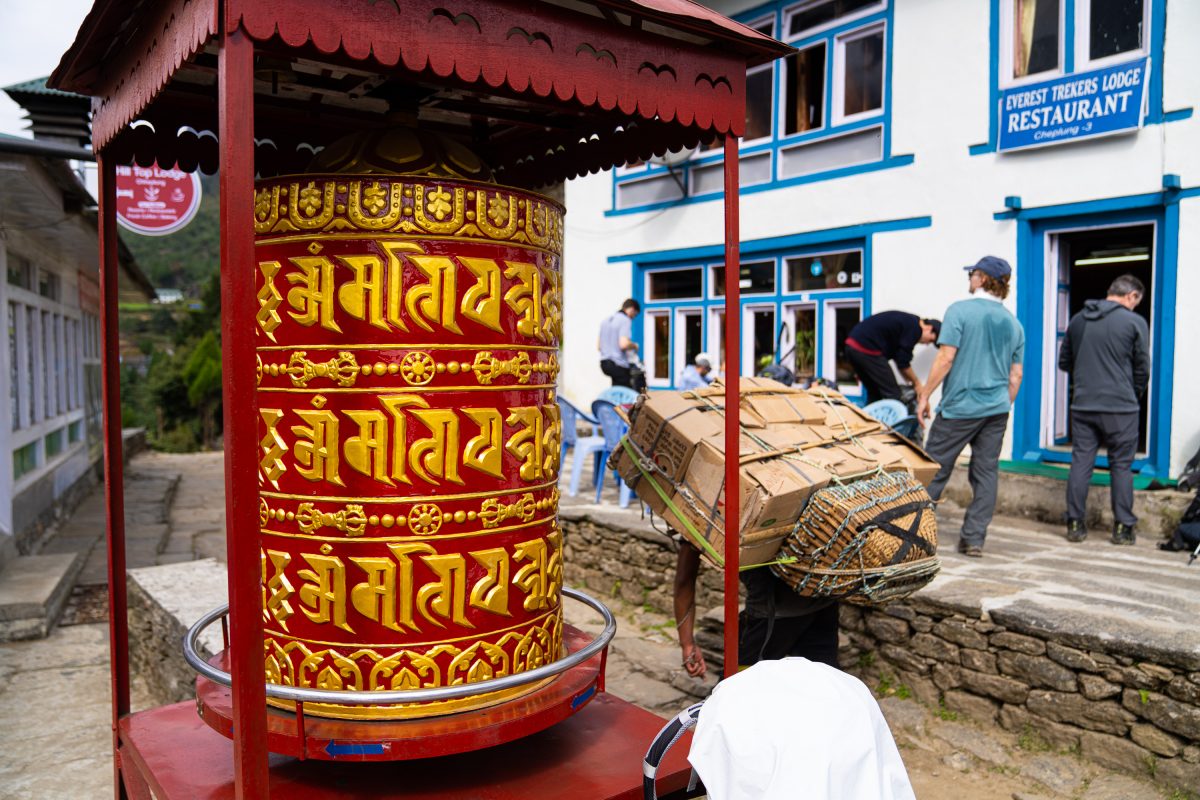 Our Sirdar is always there first thing in the morning to greet us with a cup of hot tea.  Our Sherpa Team will be gathered at their table happily eating their breakfast and checking their iPhones.  Somehow, they were ALWAYS able to get cell service while us Westerners somehow could not. This will remain a mystery for me always…
Our Porters will have stayed at another, probably lesser quality Tea House nearby and will meet us shortly.  Our Sirdar fills our water bottles with very hot water which has been filtered and recently boiled for sanitation reasons.  I can't remember ever drinking truly cold water while in the mountains of Nepal and hot water hydration is just something you get used to out of necessity.   Remember, each day we are walking further up the trail that snakes up the valley and rivers toward the base of Mt. Everest.  There are hundreds of tea houses scattered all along this single trail with thousands of trekkers and very little sanitation.  You get the idea…
Breakfast is either ordered off the Tea House menu which offers everything from hybrid, North American food translations to local fare.  Both options are a bit of a crap shoot with carbohydrates easily attainable and quality protein more difficult to find.  Remember – all food is carried up here on the backs of the Porters from Lukla far below!  I guess the carbs are a lighter load…  I settled in to a routine of hot oatmeal, boiled eggs and coffee but occasionally I would go crazy and order an omelet or some weird pancakes if they came with a referral or looked good.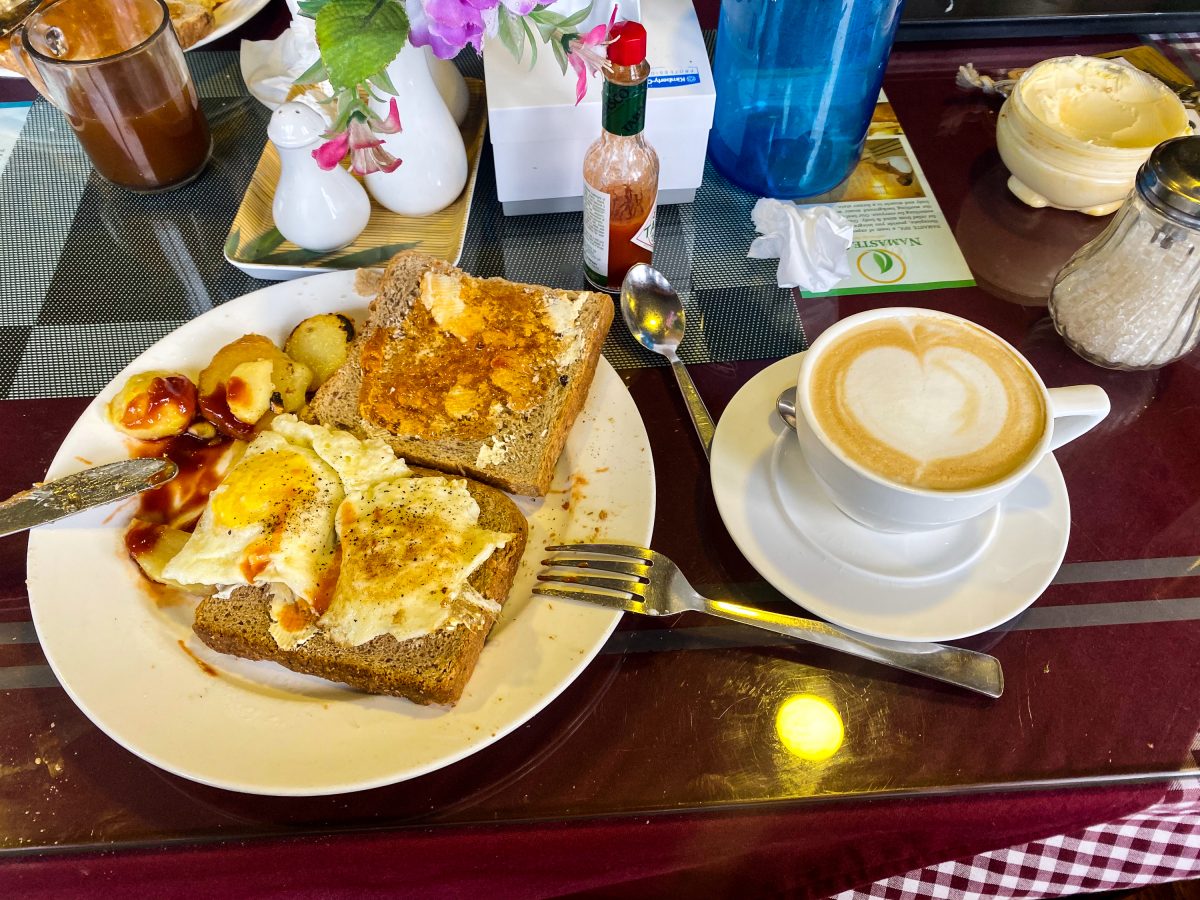 It took me a while to notice this but all condiments on our table each day travelled with our group from tea house to tea house everywhere we went for sanitation reasons.  I was told that if we had more lead time going into our project we would have travelled with ALL our own food and a cook too.  Imagine that back at home – taking all your own groceries and chef to a restaurant with the expectation of using their facilities to cook your meal?  Like I said – Nepal is a very different world!
Most days as soon as we were done breakfast we would set off up the trail with our small day packs containing just our personal gear for the day. Some days we would just trek between tea houses covering ground and on others we have some pre-arraigned stops along the way where we will meet up with the Porters and our gear and shoot some of the most spectacular scenery you can imagine with our dronesand ground cameras.  Sometimes our schedule had us staying in a village or specific area for multiple days which was nice as this gave us time to acclimatize, get to know a few locals and figure out what items were best on the breakfast menu.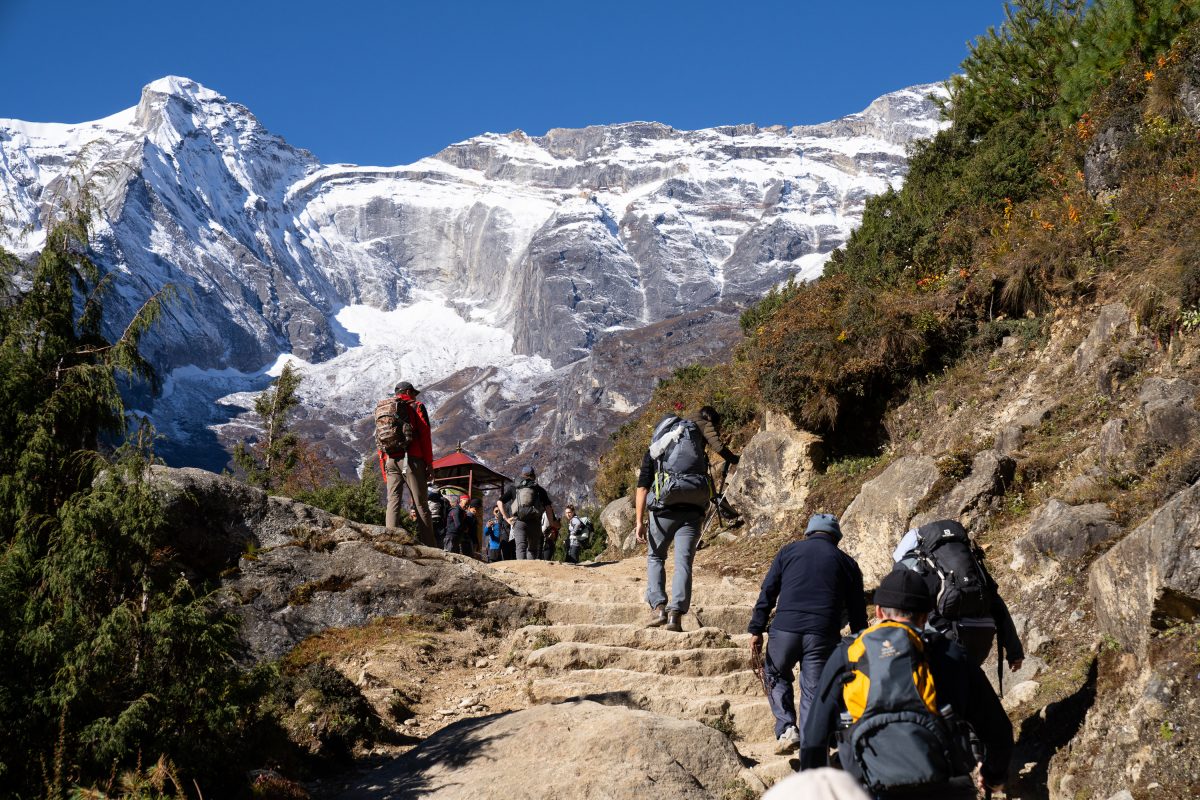 I tend to have a very busy mind and need to be always "doing something". A problem I know…  Going into this trip I was worried that I would quickly tire of the endless walking up the trail for weeks and months on end.  Yes, it did take me a few days for my mind (and body) to adjust to this new pattern of life but before long I was totally into it. Just walking, one foot in front of the other and the slower the better due to the high altitude and lack of oxygen. If you go fast you get sick so SLOW DOWN!  Every now and then looking up to take in the most spectacular view I had ever seen then more walking… another view… saying "Namaste" to a passing friendly set of eyes on the trail….  A break from walking for a drone mission from super challenging location with high wind and high altitude with the cutest Nepalese kid I have ever seen underfoot… then more walking….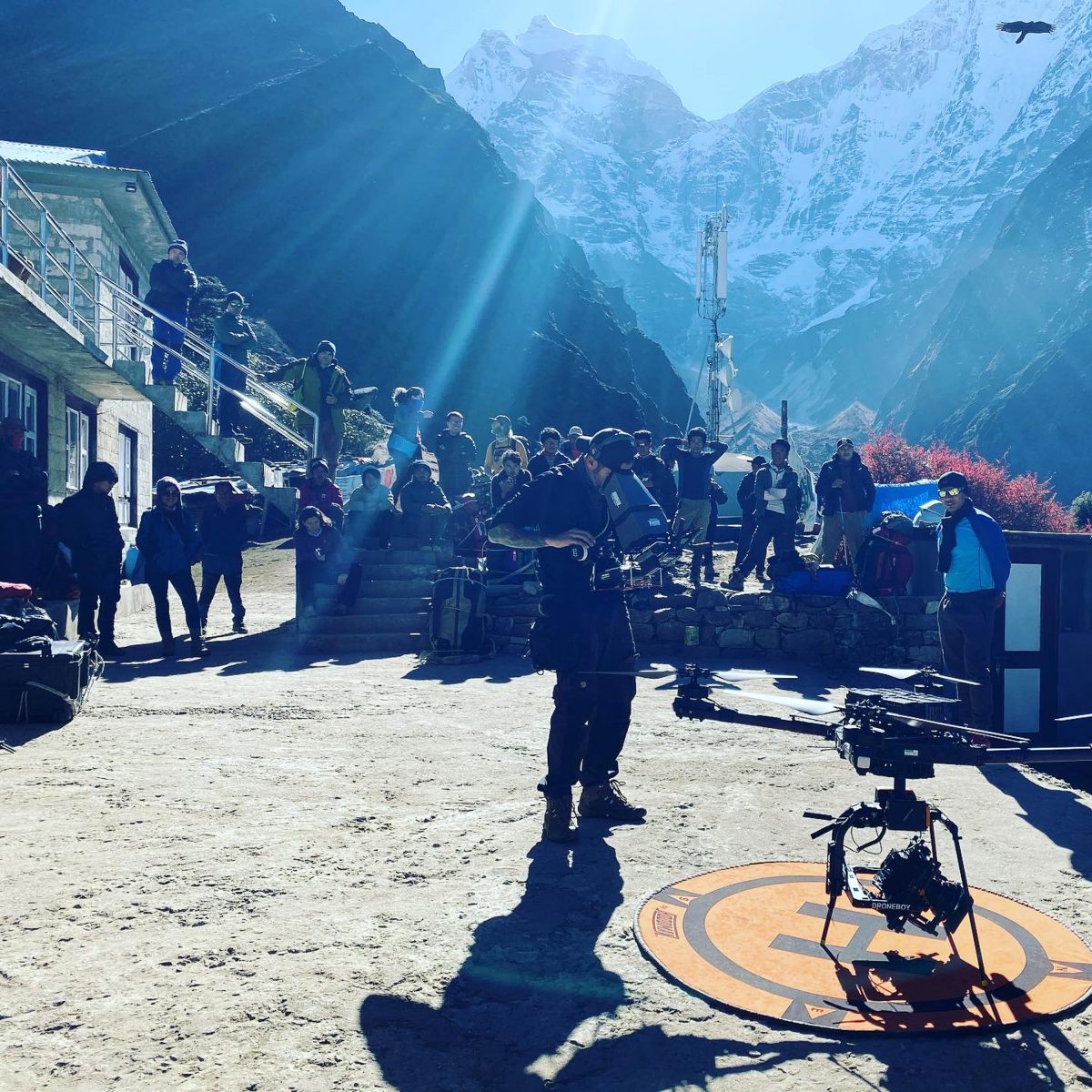 Were we there to shoot or to walk?  It turns out 95% of our work days in Nepal we were walking and 5% shooting and making a movie.  Strange (AMAZING) gig!  The days blurred from one to the next and in the blink of an eye seven weeks had passed and I was flying back to Kathmandu on the B3 Helicopter then back on that HUGE Airbus A380 on my way home.  Back to my previous life that I had almost forgotten with over two thousand still photos and 15TB of stunning 6 and 8K aerial footage safely backed up over multiple hard drives for our super-secret documentary project.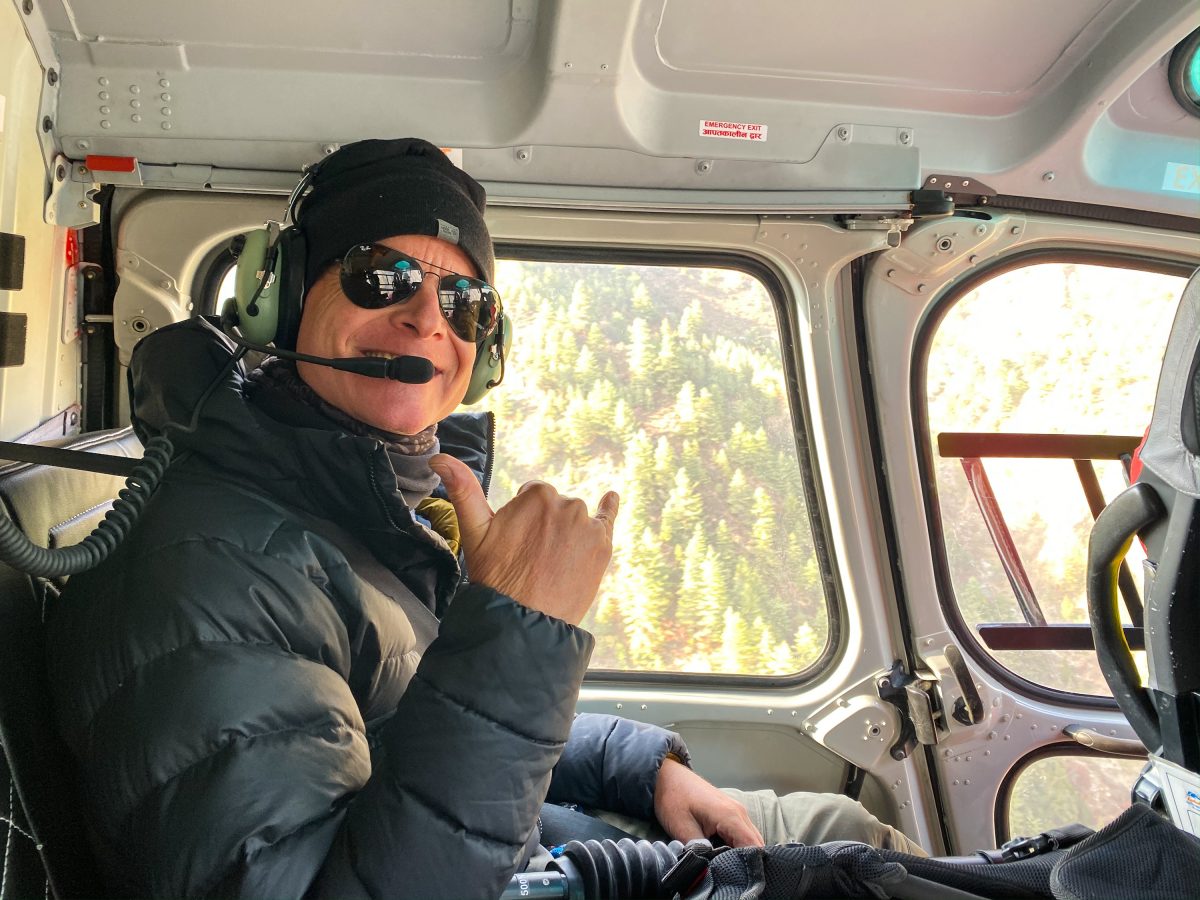 Life is an amazing adventure…  More please!
← Back to the Blog